ABM Archive Website
THIS WEBSITE CONTAINS ARCHIVE MATERIALS FOR HISTORICAL REFERENCE ONLY
For up-to-date information, including our latest appeals, news, and resources, please visit our current website.
2018 ABM National Auxiliary Conference
September 21, 2018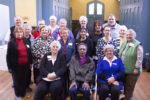 ABM's National Auxiliary representatives from around Australia met up in Sydney for their annual conference from 12-13 September, 2018.
The conference was held in the church hall at Christ Church St Laurence. Bishop Garry Weatherill (Chair of the ABM Board), Mary Catford (Auxiliary President) and others heard ABM staff members Lina Magallanes, International Programs Manager, and Robert McLean, Partnerships Coordinator, speak about ABM's PNG projects – Adult Literacy and Newton Theological College.
The 2018 National Auxiliary Project is the PNG Adult Literacy project, therefore it was fitting that Archbishop Allan Migi, the Primate of the Anglican of Papua New Guinea (ACPNG), was able to be present at the meeting during his visit to Australia.
ACPNG's literacy program, delivered by Anglicare PNG, has over 80 schools and 2,500 learners enrolled across eight provinces in PNG. ABM partners with Anglicare PNG, which works closely with the Anglican dioceses around the country, to coordinate the program and oversee the syllabus.
To learn more about the Adult Literacy Project in PNG and to support the marvellous efforts of the ABM Auxiliary, please visit https://archive.abmission.org/pages/2018-project-adult-literacy-in-png.html
ABM would like to sincerely thank all Auxiliary members, past and present, for their dedication, prayers and support of our work and our Partners.