ABM Archive Website
THIS WEBSITE CONTAINS ARCHIVE MATERIALS FOR HISTORICAL REFERENCE ONLY
For up-to-date information, including our latest appeals, news, and resources, please visit our current website.
A Letter from the Anglican Bishop of Jerusalem
August 29, 2014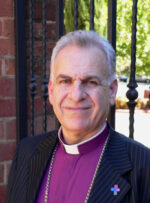 As we give thanks and praise to God for the recent ceasefire between the
Israelis and Palestinians, we wish to share with you a letter of thanks written by the Rt Reverend Suheil S.Dawani, Bishop of The Episcopal Diocese of Jerusalem and the Middle East (pictured).
Thanks to ABM donors, we were able to send emergency funding to the Al-Ahli Hospital in Gaza which we have supported for some time. Please continue to pray for the people in the Holy Land and for the Anglican/Episcopal Diocese of Jerusalem.
13 August 2014
Salaam and Peace to you from the Land of the Holy One.
Thank you very much for your kind donation of (US$4,665 / AU$5,000) to Al-Ahli Hospital in Gaza. As Christians, who have maintained the Christian presence in the Land of the Holy One since the first Pentecost, we welcome your partnership as we honor our Lord through our faith and 'faith in action'.
Your contribution helps us share a vital message of peace and hope through serving people in need, especially among those who need additional support, as they struggle in this region torn by strife. With over thirty institutions of education and healthcare, we reach out to our neighbours offering mutual respect and hope. In our hospitals in Gaza and the West Bank, we serve people in need without regard to faith or ability to pay. In our schools, we are expanding our much needed scholarship program as we strive to educate the next generation of Palestinian peace makers.
We invite you to share in our ministry by visiting us in person or online at our diocesan website www.j-diocese.org where we share our ongoing Faith in Action. Thank you for putting your faith in action and supporting our ministries of humanitarian care and peace.
Salaam, Peace,
+Suheil Dawani
The Rt Reverend Suheil S.Dawani
Anglican Bishop in Jerusalem
Bishop of the Episcopal Diocese of Jerusalem and the Middle East