ABM Archive Website
THIS WEBSITE CONTAINS ARCHIVE MATERIALS FOR HISTORICAL REFERENCE ONLY
For up-to-date information, including our latest appeals, news, and resources, please visit our current website.
A message from Archbishop David Vunagi on Solomons floods
April 8, 2014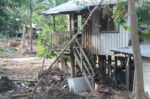 The Most Reverend David Vunagi, Archbishop of Melanesia and Bishop of Central Melanesia, responded to messages of support today in the wake of the devastating floods in the Solomon Islands.
Archbishop Vunagi said, "We are still in the process of collecting information but about 8,000 people are in Evacuation Centres, 17 people confirmed dead and out of that were 8 children and 30 still missing. Those badly affected were those who lived along the Mataniko River from Tuvaruhu, Vara Creek, Koa Valley, No.3 and China town."
"The Rectory at Tuvaruhu Parish was uprooted and washed away but Fr Stephen Sage and family are all ok. They are currently accommodated at St Agness Mothers' Union Rest House. A big loss is at Koa Valley Parish. All houses have been washed away and many of those who lost their lives came from Koa Valley. Only the Church building is at Koa Valley at this time."
"I visited Tuvaruhu on Sunday and visited the survivors of Koa Valley in one of the Evacuation Centres yesterday. We are still working around the clock to get the right and correct information. I hope by Thursday or Friday this week we should be able to know the real impact of the disaster. Please continue to pray for us."
ABM is running an appeal to raise funds to help those affected by the flash flooding. Please visit our page http://www.abmission.org/solomon-islands-emergency and keep our brothers and sisters in your prayers.