ABM Archive Website
THIS WEBSITE CONTAINS ARCHIVE MATERIALS FOR HISTORICAL REFERENCE ONLY
For up-to-date information, including our latest appeals, news, and resources, please visit our current website.
A MESSAGE TO THE ABM FAMILY – April 23
April 22, 2020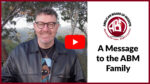 Are you ready for some good news?
Join ABM Missioner, Steve Daughtry, for a few minutes as he updates us on some of the good news coming from our Partners.
We might be in lockdown or quarantine but the good work goes on across the world thanks to your love and prayers.
In Kenya, the church continues to extend love, hope and justice to disadvantaged families.
In Myanmar, practical love means taking supplies of soap when you deliver a Grain Mill.
In the Philippines, creative solutions to the lack of Personal Protective Equipment for front-line workers has meant purpose and income for poor communities.
And in Vanuatu, after Cyclone Harold…..not such good news. But we can help the rebuilding even at this time.
As the ABM family, your prayers and generous love have changed the world and – working with God – that has not stopped.
The church is on the ground in so many places, walking light into places where darkness threatens.
Thanks again for caring.
Thanks for being part of the work of love, hope and justice.