ABM Archive Website
THIS WEBSITE CONTAINS ARCHIVE MATERIALS FOR HISTORICAL REFERENCE ONLY
For up-to-date information, including our latest appeals, news, and resources, please visit our current website.
A message to the ABM family
April 8, 2020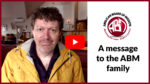 Our suddenly changed world means that so many things are on hold. We just wanted to check in with you – our ABM family – to let you know that we're praying for you and that God's mission is ongoing.
More than ever, your prayers and support mean that our Partners will know that they are remembered and loved. Our mission – to work for Love, Hope and Justice – is more important than ever.
Join us for a few minutes as we respond to fear with the Gospel imperative of abiding love.
ABM has launched a global emergency appeal in
response to COVID-19, to find out more click here.