ABM Archive Website
THIS WEBSITE CONTAINS ARCHIVE MATERIALS FOR HISTORICAL REFERENCE ONLY
For up-to-date information, including our latest appeals, news, and resources, please visit our current website.
A New Primate for the Anglican Church of Australia
June 28, 2014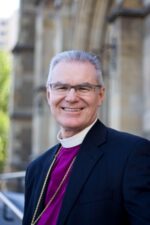 It has been announced today that the newly elected Primate of the Anglican Church of Australia (ACA) is the Most Revd Dr Philip Freier from the Diocese of Melbourne.
The current Primate, the Most Revd Dr Phillip Aspinall will preside over the 16th General Synod of the ACA from 29 June to 4 July in Adelaide before he steps down from his post after nine years of service. He plans to take some long service leave but will still serve in his current role as Archbishop of Brisbane and Metropolitan of the Province of Queensland.
In the latest edition of Focus Magazine, the Archbishop gives an insight into the privilege and challenge of the Primate's role – view the article here.
ABM wishes to warmly thank Archbishop Phillip for his strong support of our work in mission, both in his role as President of the ABM Board and Archbishop of Brisbane. We wish him a well-deserved break and look forward to continuing our partnership into the future.
We congratulate Archbishop Philip on his election and look forward to working closely with him as President of the Anglican Board of Mission (ABM).