ABM Archive Website
THIS WEBSITE CONTAINS ARCHIVE MATERIALS FOR HISTORICAL REFERENCE ONLY
For up-to-date information, including our latest appeals, news, and resources, please visit our current website.
A Tale of Two Cities
December 2, 2015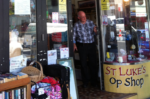 St Luke's Anglican Parish at Enmore in Sydney's inner west has been a long-time supporter of ABM.
One year, when the Parish Council was considering what ABM projects it would support in the coming year, it came across the work of the Al Ahli Arab Hospital in Gaza, owned and run by the Episcopal Diocese of Jerusalem. This was during a time of war (2008-9) and ABM had launched an appeal for the hospital which was being bombed at the time. The hospital, in spite of sometimes being on the receiving end of conflict, nonetheless maintains emergency services to the wounded and dying, and works to deal with war trauma experienced by both adults and children.
On this occasion, Enmore Parish Council chose the emergency response of the Ahli hospital as one of its three ABM projects to support for 2009. For the past 20 years, as part of their local church-community outreach, St Luke's has operated an Op Shop on busy Enmore Road. The Op Shop is run entirely by volunteers from the parish and the local community, with profits going to St Luke's Parish Mission and a percentage to ABM.
Marrickville Council, of which Enmore is a part, is twinned with Bethlehem. Friends of Bethlehem have been invited as speakers at the church, and have brought literature to share with the parishioners.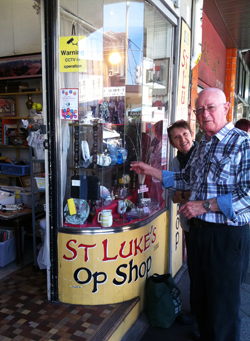 Andy Serafin with regular customer Georgina
at St Luke's Op shop. © Moya Holle 2015
Local customers would go to St Luke's Op Shop and ask where the profits go. So St Luke's started putting a notice in the window showing which projects the Op Shop money supports. When they put the Ahli Hospital in Gaza in their window, a number of local people would say to Andy Serafin and Ruth Champion, St Luke's parishioners and Op Shop Committee members, "We are glad you are supporting that part of the world." They tell their friends and neighbours to patronise the Op Shop which many locals say is the "best real Op Shop" in Sydney.
As St Luke's Andy Serafin says, "People really like the fact that although the Ahli is a Christian hospital, it does not discriminate as to whom they treat. They also have confidence that, through ABM, the money goes directly to the people who run the hospital, and won't be diverted to other groups."
Over the past three years, Enmore has raised almost $25,000 for the hospital, among other very generous donations for ABM's projects. This is a fantastic effort.
This little story is one of many examples of a church being very involved in their local community and its interests and involvements, in this case, the Middle East. ABM has provided a means for Enmore to link their local level mission with the church's mission on a global level. And the small children who are identified for nutritional testing and food supplement interventions by the staff at the Ahli Arab hospital in Gaza are benefitting from this missional work in the heart of Enmore.
Written by:
Julianne Stewart (ABM Programs Director) with Moya Holle, Parishioner, St Luke's Enmore
2 December, 2015
> Want to find out more about this project? Click on this link – Al Ahli Arab Hospital