ABM Archive Website
THIS WEBSITE CONTAINS ARCHIVE MATERIALS FOR HISTORICAL REFERENCE ONLY
For up-to-date information, including our latest appeals, news, and resources, please visit our current website.
A Visit from the Dean of St George's College Jerusalem
August 9, 2016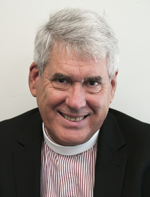 ABM was pleased to receive a visit yesterday from The Rev'd Canon Dr Gregory Jenks, Dean of St George's College in Jerusalem. He is currently visiting major centres – Auckland, Brisbane, Grafton, Melbourne and Sydney – within the Asia Pacific region to meet with some of the 600 plus members of the Alumni.
He was appointed Dean of St George's last November and hopes that his visit will reenergise enthusiasm for the College amongst its Alumni members.
ABM has supported the Diocese of Jerusalem through the Good Friday Gift since the first decades of the 20th century and this continues today. ABM is also represented on the Australia and New Zealand Regional Committee for St George's College Jerusalem which serves their alumni network in the Asia and Pacific region.
Fr Greg is originally from Lismore and formerly served as the Academic Dean of St Francis Theological College, Brisbane. He is no stranger to St George's College having made many trips there over the years, and was even offered a job there back in 1989. However, he could not accept the position due to family commitments with school aged children.
He says, "So I started going to the college with the idea that I would end up there at some stage, it just took 26 years! I was a frequent visitor because I was teaching at St Francis' College in Brisbane and was taking students to work on the dig at Bethsaida. We'd go to St George's College for a week, do a program there and then come home."
"I knew the college reasonably well and all the staff at the college, particularly all the local people. Some of my oldest friends in the world are staff members at St George's College."
Fr Greg says that he loves his role as Dean of St George's and has many connections within the community.
"It's been really good. I knew some of the story beforehand, and the story over the 25 years. In the meantime, because of going to Bethsaida and then on the weekends, we'd go and visit local churches depending on where we were. We'd go to Nazareth, Heifa or Jerusalem. It also meant several of the priests in the diocese knew me before I became Dean, so I already had those friendships in place. It's a very small diocese with about 30 priests and I actually knew about 4 of them already."
St George's College offers many interesting programs of study as a continuing education centre for the Anglican Communion. There are short courses suitable for clergy and anybody interested in expanding their understanding of the scriptures in their original geographic setting.
The Palestine of Jesus course has been the College's 'signature' program for many years. It's a 2 week program which goes through the Synoptic Gospels, following and visiting places mentioned in the Gospels mostly in sequence.
Since his appointment, Fr Greg says that a couple of changes have been made whereby the course now makes a point of focusing on the liturgical Gospel for the year, making it more relevant for clergy, liturgical leaders, and liturgical assistants. There is also a three night stay in Nazareth instead of just a morning visit. This is so that participants can really immerse themselves in the life of the city and form friendships with the local people.
St George's College offers support to participants with an online learning program which helps to prepare them for the courses. They also use this program to stay in touch with people afterwards, as an "almost kind of debrief."
Fr Greg says they want participants to get the most out of the courses as there is a lot of information to take in. He says that people need time and space to process all that they have learnt and experienced. Also, some people come away being able to read the Bible differently, or can better relate to certain passages once they have been in the Gospel lands.
"We try to make sure there is space within the program for people to pray and reflect but we also know that we need to help them keep on reflecting afterwards."
> Find out more
Please visit the ABM website's Make a Pilgrimage section for more details on the Palestine of Jesus course at St George's College Jerusalem.