ABM Archive Website
THIS WEBSITE CONTAINS ARCHIVE MATERIALS FOR HISTORICAL REFERENCE ONLY
For up-to-date information, including our latest appeals, news, and resources, please visit our current website.
ABM Board & Supporters' Dinner 2016
September 13, 2016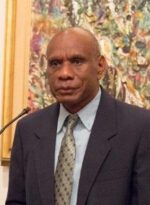 The ABM Board and Supporters' Dinner was held in Sydney on Friday 9th September, 2016. The guest speaker was the Rt Revd Tennyson Bogar, Bishop of Dogura Diocese in Papua New Guinea.
ABM has worked in partnership with the Anglican Church of PNG for many years so we are really pleased to be hosting Bishop Tennyson during his visit to Australia. We support projects in Dogura Diocese as well as helping to facilitate the Modawa Pilgrimage.
It was a pleasure to meet Bishop Tennyson and to hear him speak about his work and personal experiences.
The evening was a great success so thank you to all of our supporters who attended the event and who donated so generously.
During his time in Sydney, Bishop Tennyson met with members of the ABM Board, staff, Partnerships Committee and National Auxiliary.
Bishop Tennyson's visit continues onto several other dioceses including Melbourne, Bendigo and Ballarat.
> To view Bishop Tennyson's biography and itinerary, please follow this link.
Below are some photographs from the event.

Fr John Deane with Bishop Tennyson Bogar
Fr Andrew Sempell and Bishop Tennyson Bogar

Fr John acknowledging Beverley Dykes for her term




as Associates' Representative on the ABM Board

Fr Ivica Gregurec, Martin Drevikovsky and Fr
Daniel Dries
Margaret Lawther and Emma Riggs
Fr Martin Davies and Dr Julianne Stewart
Paul Lee, Debra Saffrey-Collins and Tony Naake

Moya Holle and Fr John Deane

Dean John Roundhill and Colleen Hodge

Fiona and Wayne Richardson with Peter Bentley

Margaret Lawther presenting a gift to Bishop




Tennyson Bogar on behalf of the Auxiliary