ABM Archive Website
THIS WEBSITE CONTAINS ARCHIVE MATERIALS FOR HISTORICAL REFERENCE ONLY
For up-to-date information, including our latest appeals, news, and resources, please visit our current website.
ABM Board & Supporters' Dinner 2018
September 21, 2018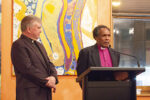 On Friday 14 September, 2018, ABM held its annual Board and Supporters' Dinner in Sydney. The event is a great opportunity for ABM Board members, staff and supporters to come together, and to listen to and meet our Partners.
This year, the Most Reverend Allan Migi, Primate of the Anglican Church of Papua New Guinea (ACPNG), was the guest speaker. During his short visit to Australia, Archbishop Allan travelled to several dioceses – Brisbane, Melbourne, Adelaide, Sydney and Canberra/Goulburn – meeting our bishops and visiting parishes and theological colleges. He also spoke at the ABM National Auxiliary Conference in Sydney.
There were many bishops in attendance on the night – (pictured from left to right) Bishop Peter Tasker, Archbishop Glenn Davies, Bishop Jeffrey Driver, Archbishop Allan Migi and Bishop Garry Weatherill (ABM's Chair of the Board).
During a Q&A session with the Rev John Deane, ABM's Executive Director, Archbishop Allan spoke about his time as Bishop of the Diocese of the New Guinea Islands, and about his role as head of the Church in PNG (since September 2017). Archbishop Allan mentioned that with the role comes "big responsibility" and the need to address issues such as climate change and sorcery, as well as looking at ways to support pastoral care, theological education, self-sufficiency, and many other areas. He spoke about the hardship of travelling around PNG with its scattered population of about 250,000 Anglicans spread over five dioceses. He was grateful for the support of ABM and Fr John reaffirmed the strong partnership and relationship which exists between ABM and ACPNG.
Another highlight of the evening was the presentation of the ABM Coaldrake Award to two very deserving recipients – The Rev Desmond Cox and Mr Phillip Miller. The Coaldrake medal, named after the Rev'd Canon Frank Coaldrake who served as a missionary and later as Chairman of the ABM Board, is a means to recognise the valuable contribution of former ABM missionaries and staff members.
Thank you to everyone who attended the dinner and for your generous donations which support ABM's projects in Papua New Guinea.