ABM Archive Website
THIS WEBSITE CONTAINS ARCHIVE MATERIALS FOR HISTORICAL REFERENCE ONLY
For up-to-date information, including our latest appeals, news, and resources, please visit our current website.
ABM CONGRATULATES NEW ANGLICAN ARCHBISHOP IN JERUSALEM
May 27, 2021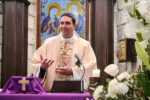 On Ascension Day, Thursday 13 May, Archbishop Hosam Naoum was installed as the Anglican Archbishop in Jerusalem and Fifteenth Bishop of the Episcopal Diocese of Jerusalem. In his address, he looked forward to joining fellow faith leaders in continuing to pray for the peace of Jerusalem. The new Archbishop also thanked the church's partners around the world for their prayers and support, comparing this with the response to St Paul's challenge to the early church diaspora to contribute to the work of the church in Jerusalem.
Archbishop Hosam is well-known to many at ABM from his visit to Australia as ABM's Good Friday Visitor many years ago when he was a parish priest.
He follows retired Archbishop Suhail Duwani who served as Bishop of Jerusalem since 2007, and Archbishop since 2014.
ABM welcomes Archbishop Hosam and prays for his ongoing ministry. ABM also expresses its appreciation to outgoing Archbishop Suhail for his many years of service to the church, and for his friendship with ABM.
You can watch the Archbishop's installation on YouTube at:
https://www.youtube.com/watch?v=uCIYjE1O-MA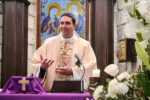 Bishop Hosam, just prior to his installation as Archbishop. © Don Binder. Used with permission.