ABM Archive Website
THIS WEBSITE CONTAINS ARCHIVE MATERIALS FOR HISTORICAL REFERENCE ONLY
For up-to-date information, including our latest appeals, news, and resources, please visit our current website.
ABM CONGRATULATES NEW PRIME BISHOP OF EPISCOPAL CHURCH IN THE PHILIPPINES
April 19, 2021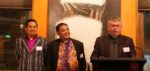 It was with great joy that ABM received news of the recent election of Bishop Brent Alawas as Prime Bishop of the Episcopal Church in the Philippines (ECP). Bishop Alawas will succeed current Prime Bishop Joel Pachao who will retire in July.
Bishop Alawas is well-known to many at ABM, having visited here as recently as September 2019 when he met many ABM supporters across the country as part of celebrating of 25 years of the partnership between ABM and ECP.
Prior to being consecrated Bishop of the Diocese of Northern Philippines, Bishop Brent was a very active and highly regarded community development worker in the Mountain Province of northern Luzon. As bishop he has continued to champion the work of community development.
This election of a new Prime Bishop was unusual in that the Synod of which it was part was attended by delegates gathered physically in their dioceses but linked into one meeting across the Philippines via Zoom.
ABM wishes Prime Bishop Joel all the best for his retirement and thanks him for his enduring commitment to the partnership with ABM. We also look forward to continuing our fruitful partnership with ECP under Prime Bishop Brent.