ABM Archive Website
THIS WEBSITE CONTAINS ARCHIVE MATERIALS FOR HISTORICAL REFERENCE ONLY
For up-to-date information, including our latest appeals, news, and resources, please visit our current website.
ABM partners learning together in the Philippines
June 9, 2016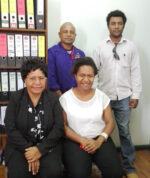 Last Friday 3 June, two Anglicare Officers, Carson Evari and Priscilla Kee left Port Moresby, PNG, for Manila to attend the next community development training run by E-CARE (Episcopal Church in the Philippines' development program).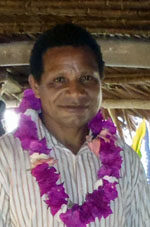 Carson Evari is the Adult Literacy (AL) Coordinator for Anglicare in Popondota Diocese and is also a trained translator. He has introduced the teaching of basic literacy in the local vernacular before bridging the students to Tok Pisin or English programs. Carson is working with the Adult Literacy schools in Popondota Diocese to become self-sufficient in supporting the teacher and providing teaching and learning materials. Anglicare provides the technical support through initial teacher training and refresher workshops for existing teachers. Anglicare's AL program is run in all 5 Anglican Dioceses in PNG and is funded through ABM as part of the Australian AID supported PNG Church Partnership Program.
Priscilla Kee is the Child Protection Liaison Officer and oversees Anglicare's Child Protection Policy. She ensures that the principles of child protection are implemented across all of Anglicare's programs – from adult literacy to water and sanitation for health programs, to HIV and STI prevention, testing and treatment services and other community development activities.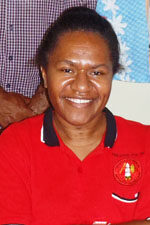 Priscilla works with Anglicare staff to create programs that are safe for children, and support them to identify and appropriately report on any children that are at risk in the communities in which they work. Anglicare then refers these children to relevant local services. Staff have also reported that they are now better parents after attending the trainings run by Priscilla for all staff on child protection.
It is hoped that both these officers will be able to incorporate what they learn at the community development training into their own programs and help Anglicare plan and deliver better programs in the communities they serve.
They have been joined by church workers from other ABM partners – Church of the Province of Myanmar, IFI-VIMROD (Philippines), Episcopal Relief and Development (Colombia)- for a 4 week intensive training.
Please pray for Carson and Priscilla and the other participants at this time of learning and sharing.
Pictured at right are Carson and Priscilla; and above with Anglicare PNG staff members Heni Meke and Jeffrey Kaka, before heading for the Philippines.