ABM Archive Website
THIS WEBSITE CONTAINS ARCHIVE MATERIALS FOR HISTORICAL REFERENCE ONLY
For up-to-date information, including our latest appeals, news, and resources, please visit our current website.
ABM pilgrimage to the Philippines inspires new Chairperson for Southern Queensland ABM Committee
June 24, 2020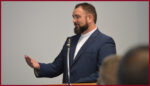 "What does the Lord require of you? But to pursue justice, love mercy and walk humbly with God". This verse from Micah 6.8 is the benchmark and impetus for Reverend Eron Perry's passion for social justice. Reverend Eron Perry is the parish Priest at Burleigh Heads on the Gold Coast and has recently been appointed by Archbishop Phillip Aspinall as the new Chairperson for the Anglican Church of Southern Queensland (ACSQ) ABM Committee.
Eron moved into the Southern Queensland diocese in late 2017, following 16 years in the Grafton Diocese. After serving in the Australian Army he studied Environmental Science, then Theology, and was ordained Deacon in 2001 and Priest in 2002 in the Grafton diocese. He has served in parish ministry for over 18 years.
While studying theology, Eron, with two other young people, made a pilgrimage to the Philippines with ABM which left an enduring influence upon him:
"On my pilgrimage to the Philippines I was witness to the amazing work of ABM and the life changing impacts it has on the poor and vulnerable".
Eron also serves ABM at the national level on the Development Committee, which oversees ABM's international development programs.
During his down time Eron enjoys gardening, a good cup of coffee with his wife Jane and friends and on occasion SCUBA diving off the Tweed Coast.
Reverend Eron takes on the role as Chairperson of the ACSQ ABM Committee after Bishop Bill Ray finished twelve months as interim Chair. Eron said he feels especially blessed to be following Bishop Bill as Chair as he has done such an amazing job, particularly expediting the Coaldrake awards for the Southern Queensland Diocese.
"The Committee is in really good health with a great balance of new and experienced people, both young and mature. I think we have a really great team to innovate, promote and grow ABM in the Southern Queensland Diocese".
ABM is delighted to welcome Reverend Eron, who is just one of a number of younger people within the Southern Queensland Diocese who sees great value in the ministry and mission of ABM and seeks to actively help where he can.
If you are interested in helping ABM in your region get in touch with your local Committee, or touch base with ABM at info@abmisssion.org.au.