ABM Archive Website
THIS WEBSITE CONTAINS ARCHIVE MATERIALS FOR HISTORICAL REFERENCE ONLY
For up-to-date information, including our latest appeals, news, and resources, please visit our current website.
ABM renews commitment to work with Episcopal Church in the Philippines
September 18, 2014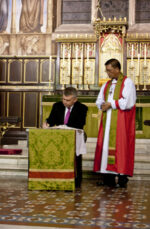 On Wednesday 17th September, the Anglican Board of Mission and the Episcopal Church in the Philippines (ECP) renewed their commitment to work together through the signing of a Partnership Accord at a special Eucharist held at Christ Church St Laurence in Sydney.
This coincided with a visit by the ECP bishops and their spouses who attended the Annual Meeting of the Council of Churches of East Asia (CCEA) which took place in the Diocese of Newcastle last weekend.
The celebrant was the Rector of Christ Church, Revd Dr Daniel Dries, with the Prime Bishop of the ECP, the Most Revd Edward Malecdan preaching the sermon.
Others present at the service were the Rt Revd Brent Alawas (Bishop of the Northern Philippines), the Rt Revd Danilo Bustamante (Bishop of the Southern Philippines), the Rt Revd Jonathan Casimina (Bishop of Davao), the Rt Revd Dixie Taclobao (Bishop of the Central Philippines), Atty Floyd Lalwet (Provincial Secretary and National Development Officer), the wives of the bishops, the Revd Rachel Carnegie (Co-Director of the Anglican Alliance based in the UK), Andrew Joyce from Episcopal Relief and Development in the US and currently working at the ECP, clergy and members from local Filipino congregations, ABM staff and volunteers.
In his sermon, Prime Bishop Malecdan spoke about the importance of working together to be the voice of the poor and needy. ABM has been in partnership with the ECP since the mid-1990s and hopes to continue this fruitful relationship to see many more lives empowered and transformed spiritually, materially and socially.
After the sermon, ABM's Executive Director the Revd John Deane and Prime Bishop Edward Malecdan signed the partnership documents.
Earlier in the day, the ECP visitors had morning tea with ABM office staff. It was a great opportunity to connect with each other and further strengthen the friendship and fellowship between these two partners.