ABM Archive Website
THIS WEBSITE CONTAINS ARCHIVE MATERIALS FOR HISTORICAL REFERENCE ONLY
For up-to-date information, including our latest appeals, news, and resources, please visit our current website.
ABM volunteers receive Coaldrake Award
June 15, 2018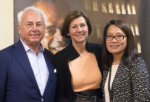 On 31st May, 2018, the Anglican Board of Mission presented the Coaldrake Award to Richard and Viccy Harper during the annual 'Associates & Friends of ABM' function.
As part of its mission work, ABM accepts volunteers in Australia on a case by case basis, to work with partners overseas.
For the past 15 years, Richard and Viccy have worked tirelessly in putting their professional skills and time to good use as volunteers for ABM. They have both been business owners and Richard also worked as a chartered accountant.
In 2003, the Harpers started working with the Episcopal Church in the Philippines, particularly at St Paul's Memorial School of Kalinga Inc. The agreement was to work as volunteers for 3 months of each year over the next ten years. They successfully completed the ten year commitment in 2012 but have continued their involvement at the school.
St Paul's Memorial School is a secondary school in the Province of Kalinga in the Diocese of Northern Luzon. It is situated in a small village located in a mountainous area (a three day journey from Manila) with limited government infrastructure and electronic communications. The school acts as a "catchment" for an extensive area and therefore has a large number of boarders who come from villages as far as 100 kilometres away.
Viccy initially intended to teach English at the school in 2003 but realised that it needed financial assistance. She and Richard began by fundraising amongst friends and assisted in the construction of classrooms, a computer room, science laboratory, canteen, and refurbishments to the library and other facilities. Over the years, they have achieved a lot in helping to provide an education to students who would otherwise have limited opportunities. The success of their commitment can be measured by the increase in teacher numbers, student enrolments, infrastructure, community support, students who have gone on to tertiary education and much more.
In 2013, a recognition ceremony was held in the Harpers' honour to acknowledge their contribution in the Philippines by the National Office of the Episcopal Church.
ABM acknowledges and congratulates Richard and Viccy Harper on their significant achievement, and is most grateful for their dedication to the work of ABM and our partner, the Episcopal Church in the Philippines.