ABM Archive Website
THIS WEBSITE CONTAINS ARCHIVE MATERIALS FOR HISTORICAL REFERENCE ONLY
For up-to-date information, including our latest appeals, news, and resources, please visit our current website.
ABM Youth Ambassadors' Pilgrimage to Vanuatu
January 18, 2017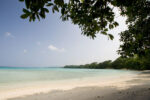 You are invited to join with the Youth Ambassadors and support them through prayer as they prepare, journey and return from their pilgrimage to Vanuatu, hosted by ABM's Vanuatu Partner the Anglican Church of Melanesia (ACOM).
The 2017 Queensland Youth Ambassadors are Sarah Crisp, Melissa Scheuch and Ash-Lee Lund. Accompanying them from ABM are Communications Officer Vivienne For and Education Officer Sarah Gover.
The Pilgrimage starts on January 27th with the group flying to Port Vila, Vanuatu. After visiting a local Parish on the 28th they then fly to Luganville. They will spend Sunday 29th with a Luganville Parish. Weather permitting, they will fly up to Sola on the island, Vanua Lava on January 30th to spend 5 days in the very remote villages on the island visiting ABM projects accompanied by local ACOM staff. The group will fly back to Luganville on February 4th and spend another Sunday in a local Luganville parish, returning to Brisbane on Monday February 6th.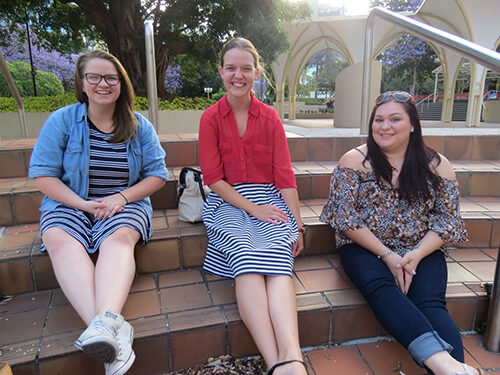 2017 ABM Youth Ambassadors: (L-R) Sarah Crisp, Ash-Lee Lund and Melissa Scheuch.

Prayer Points

For the Anglican Church of Melanesia.
Please pray for our hosts. The Church in Vanuatu and the people who the team will visit. May the pilgrims learn and grow from their hospitality and may the team's presence strengthen the bonds that unite us as one body in Christ.
Turning outsiders into insiders
Pray that the pilgrims will be drawn into a closer relationship with ABM and the Anglican Church, and be inspired to see themselves as part of God's mission.
Communicating ABM's Mission, Vision and Values
Pray that the pilgrims will be able to deeply understand the core mission, vision and values of ABM though the work of our Partner the Anglican Church of Melanesia and their work in Vanuatu in particular Port Vila, Luganville and Sola.
Creating meaningful experiences
Pilgrimage invites participants into a highly significant spiritual journey. Please uphold the pilgrims in their times of preparation, briefing, reflection and debriefing that they will hear God's message to them, see the work God is doing in Vanuatu and be inspired to tell others, inviting them to join in God's mission.
Cultivating advocates
On return the Youth Ambassadors will be visiting Parishes, schools, and youth groups sharing their experience in Vanuatu and advocating for ABM. Please pray that each Youth Ambassador will be surrounded by people who care for, nurture, inspire, motivate and support them through their speaking engagements throughout 2017. Pray for open doors and receptive ears as the Youth Ambassadors take the story of their journey and the message of ABM throughout the Diocese of Southern Queensland.
Building a community
Pray that, through the Youth Ambassadors, ABM will be able to form connections between individuals and to build communities that encourage one another and can work together for larger social change.
Safe travel
Please pray for the team, that God will place a hedge of protection around the entire trip, for all travel and health, and that there will be Divine appointments along the way both with the partners they meet and within the team.
Please pray Ephesians 3:14-20 for the pilgrims and all involved in the pilgrimage.
My response is to get down on my knees before the Father, this magnificent Father who parcels out all heaven and earth. I ask him to strengthen you by his Spirit – not a brute strength but a glorious inner strength – that Christ will live in you as you open the door and invite him in. And I ask him that with both feet planted firmly on love, you'll be able to take in with all Christians the extravagant dimensions of Christ's love. Reach out and experience the breadth! Test its length! Plumb the depths! Rise to the heights! Live full lives, full in the fullness of God. God can do anything, you know – far more than you could ever imagine or guess or request in your wildest dreams! He does it not by pushing us around but by working within us, his Spirit deeply and gently within us.
Download a .doc (Word) copy of the Prayer points here.