ABM Archive Website
THIS WEBSITE CONTAINS ARCHIVE MATERIALS FOR HISTORICAL REFERENCE ONLY
For up-to-date information, including our latest appeals, news, and resources, please visit our current website.
ABM's Encounter Visitor From PNG
January 16, 2014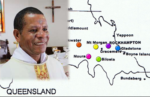 Fr Grayson Elea from Popondota Diocese in Papua New Guinea is currently visiting Rockhampton Diocese as an Encounter Visitor. He arrived in Australia just prior to the Christmas celebrations for a three month visit.
Fr Grayson has preached to three congregations. He preached for the first time in Australia at St John's South Sea Islander Church on Christmas Day. A quote from an email received at ABM: "He has been practicing today so he feels well prepared."
He has also visited the North Rockhampton Nursing Home and six households as part of the pastoral visiting program and has received very positive feedback.
Fr Grayson was happy to provide us with a copy of his New Year sermon which was shared with Western Parishes in the Diocese.
View a copy of Fr Grayson's sermon here.
The Encounter program offers participants the opportunity to learn from ministry and life in Australia and also provides insight for ABM about experiences in our partner countries. Find out more about the ABM Encounter Program at this link – www.abmission.org/pages/overseas-exchange-program.html