ABM Archive Website
THIS WEBSITE CONTAINS ARCHIVE MATERIALS FOR HISTORICAL REFERENCE ONLY
For up-to-date information, including our latest appeals, news, and resources, please visit our current website.
ABM'S EXECUTIVE DIRECTOR GIVES SERMON ON MYANMAR
August 30, 2021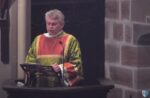 The Rev'd Dr John Deane has given another sermon on Myanmar at a service at Christ Church St Laurence in Sydney this week.
You can watch the sermon here:
https://www.youtube.com/watch?v=UelviyIa9RI – commencing at 28.22 minutes from the start of the service.