ABM Archive Website
THIS WEBSITE CONTAINS ARCHIVE MATERIALS FOR HISTORICAL REFERENCE ONLY
For up-to-date information, including our latest appeals, news, and resources, please visit our current website.
Fifth Mark of Mission
Protect, care for and renew life on our planet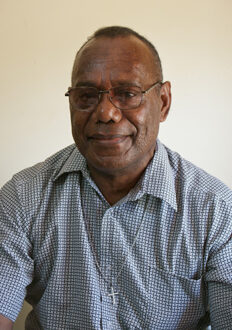 ACOM's Climate Change Officer, Jasper Bonie.
© ABM/Vivienne For 2013
ABM's work reflects our commitment to environmental sustainability. Where this is not possible, due to overwhelming climate change, adaptation and planning for future re-location of affected people is the only option.
In recent times the global phenomenon of climate change has called for immediate action in order to mitigate against rising tides and the encroachment of land mass in many regions across the Pacific. Currently ABM is funding part of a water and food security program, implemented by our partner, the Anglican Church of Melanesia (ACOM), on the atoll of Ontong Java (Lord Howe Atoll) in the North eastern part of the Solomon Islands.
In 2010 food and vulnerability assessments were conducted by ACOM's Climate Change Officer, Jasper Bonie. These studies uncovered severe levels of food and water insecurity that required immediate intervention. The result was the Ontong Java Food and Water Security program. The overall objective of this project was to address food and water shortages by providing for increased food production through the introduction of salt resistant crops and the installation of water tanks. ABM has funded the water tanks in order to provide potable water for people living on the atoll.
The program works with the communities of Luaniua and Pelau with combined populations of around 2,860 inhabitants. From the beginning of the process, community consultation and continuing involvement have featured as a crucial element. The method of community consultation saw the participation of tribal and church leaders, local chiefs, community members and local farmers. The aim of the project was to assist Atoll island communities to improve subsistence agricultural production so that the basic short to medium term food needs of families could be met through the implementation of family agriculture methods.
Jasper Bonie explains how the introduction of sweet taro which is a salt resistant crop has allowed local farmers to yield successful harvests since its inception through a form of Atoll Permaculture. The sweet taro crop has been and continues to produce good harvests, as opposed to its swamp taro relative which has been far less successful in the past. The implementation of such methods has meant that individual households are enabled to construct and maintain their own gardens through the provision of safe water supplies. This then allows community members to be less vulnerable to the rising sea levels for a longer period of time.
There has been some debate recently about what can actually be done to help the people of Ontong Java. While ABM understands the realities of how climate change is impacting such atolls, the situation at hand is a slow onset disaster which needs to be treated with medium term interventions until long term resettlement is a workable option. Proper resettlement plans that have been adequately thought out with protection of livelihoods and safety of the people involved will take years to implement. Through this climate change adaptation work, ABM's partner is attempting to reduce the dislocation and conflict that may be caused by sudden mass relocations to other parts of the Solomon Islands, which will occur sooner or later as sea levels continue to rise.
< Back