ABM Archive Website
THIS WEBSITE CONTAINS ARCHIVE MATERIALS FOR HISTORICAL REFERENCE ONLY
For up-to-date information, including our latest appeals, news, and resources, please visit our current website.
First Mark of Mission
Witness to Christ's saving, forgiving and reconciling love for all people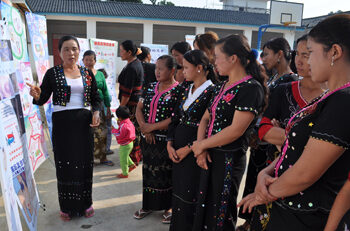 A village health worker promoting health awareness in China.
© ABM/Ivy Wang 2011
In implementing ABM's Community Development Program, we interpret this mark of mission in the fact that all our work is motivated by Christian values, including a strong sense of compassion for our fellow human beings. We reach out to people in need, regardless of their faith.
In China, ABM's partner, Amity Foundation, works mainly with non-Christian communities who are marginalised within mainstream society. One day, an Amity project officer visited the village of Nongguan, where the people are predominantly Buddhist. She saw that Women's Association volunteers were updating the health bulletin board with information about fibroids. Many women from the village stood around, watching as the board was updated, and they began to talk to the Amity officer.
One woman told the officer that she had just returned from the county hospital, because she had contracted tapeworm of the brain. This is her story:
"At the beginning, I did not know what tapeworm was. I just knew that I was not feeling well, but didn't understand why. One day I passed the health information bulletin board and saw that it had been updated with information on how to prevent and cure tapeworm of the brain. After hearing the information, I realized my own symptoms were similar to what was being presented, so with a fearful heart I went to the county hospital for a check-up. I found out that I had tapeworm in my brain, and needed an operation to remove them. From now on, I will not eat raw meat and will pay close attention to personal hygiene and food safety. I also need to share my story with other villagers, so they know how to prevent disease."
Without seeing the health information bulletin board, the woman may not have been treated in time. Thanks to the efforts of village health volunteers and Women's Association members, rural women in Nongguan and other project sites now have access to the health information they need. In Nongguan, ordinary knowledge can provide extraordinary help.
*This program was funded by Australian Aid and ABM.
< Back