ABM Archive Website
THIS WEBSITE CONTAINS ARCHIVE MATERIALS FOR HISTORICAL REFERENCE ONLY
For up-to-date information, including our latest appeals, news, and resources, please visit our current website.
Fourth Mark of Mission
Challenge violence, injustice and oppression, and work for peace and reconciliation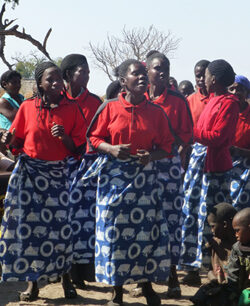 Lui-Mwemba Gender Development Action Group.
© ABM/Beth Snedden 2013
ABM's work helps disempowered and marginalised people to speak for themselves, and act to improve their condition. Our work supports peace and reconciliation in areas affected by conflict. This story from ABM's partner, the Zambia Anglican Council, tells of the church's part in challenging injustice for a very marginalised community.
In the Lui River Valley in the Western Province of Zambia, you will find the village of Lui-Mwemba, 20 kilometres and seven hours walk from the main road, along deep sandy tracks. There is no public transport to or from this village of 1,300 people.
There are numerous socio-economic problems in the Lui River valley – limited employment opportunities, little access to health facilities (4-5 hours to a clinic) and higher education, low representation of police or victim support officers, poor agricultural soil, and a poor road network which hinders access to markets for selling produce or buying necessary medicines and fertilisers. In the wet season the valley floods and people travel between the villages by canoe.
The plight of women and children in this area has been exacerbated by negative cultural practices such as female child marriages, wife beating and rape, child beating, child labour, child defilement, as well as lack of land rights and gender inequality.
Through the Zambian Anglican Council's Gender and Governance initiative, the Lui River chiefs and community selected 20 volunteers from the valley to form a Gender and Development Action Group (GAD) who are tasked with sensitising the communities about negative cultural practices. This group comprises ten men and ten women.
Monica Mvula, program manager, stated, "The biggest challenge with regard to Gender Based Violence (GBV) is that there has been too much silence. If we can break the chain of silence, we can begin to change…"
This sensitisation group is active, excited and engaged by their work. They utilise creative means to communicate their message about negative cultural practices – group-written drama, dance, songs, and poems, traditional community dance, and reflection sessions – and the impacts are being felt in the communities. One village head man said: "I have learned something today – I do not have to wait for my wife to put water in the kettle. I can do it myself, and it is not a wrong thing to do."
"The Lui-Mwamba public school is a key site for the valley communities with the grounds used for community meetings, with villagers canoeing or walking in from all over the valley. A school room is used as a base for the group's business meetings, and they have built a community grocery shop in the school grounds as an income-generation activtiy.
The grocery shop commenced with a 'seeding' grant from ABM. It is both a source of income for the GAD action group volunteers, and a vital provisioning point for the valley – selling essential items to villagers (school supplies, basic medical, hygiene and laundry items, and basic dry food goods) at affordable prices. This saves the villagers a long walk to the nearby town, where prices are overly expensive. The GAD action group has also established a revolving loan initiative (for group members), saving surplus funds to buy a threshing machine that can be used by the local communities who currently have to commute long distances to have their grain threshed."
One of the positive unexpected outcomes from this project is explained by the Acting Principal, Mwemba Public School.
He writes:
"The Gender and Governance project has been exceedingly helpful around the lives of the people in Lui-Mwemba community. Our school experienced a lot of girl-child drop-outs, girl-child under-enrolment and high rates of girl-child absenteeism. Since the inception of this project…(it) has helped the school much as can be evidenced that: girl-child dropouts have been reduced, girl-child enrolments in the school has/is progressively surpassing that of the boy-child, and girl-child absenteeism has practically reduced. Furthermore, many parents have developed positive attitudes toward gender equity, equality and human rights, children's rights inclusively."
The Zambian Anglican Council has partnered with the Lui-Mwemba Public School (under the auspices of the Ministry of Education).
< Back