ABM Archive Website
THIS WEBSITE CONTAINS ARCHIVE MATERIALS FOR HISTORICAL REFERENCE ONLY
For up-to-date information, including our latest appeals, news, and resources, please visit our current website.
Second Mark of Mission
Build welcoming, transforming communities of faith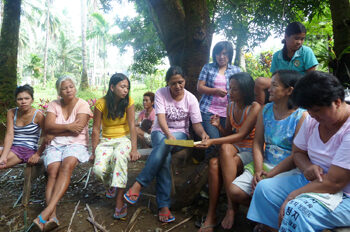 Communities are strengthened by working together on projects.
© ABM/Lina Magallanes 2012
ABM's community development work aims to build cohesive, inclusive communities, where people are free to express their beliefs. ABM's work seeks to empower communities to identify and address community problems and concerns, and to mobilise the skills, learning, and experience of all members.
ABM works in partnership with the Episcopal Church in the Philippines (ECP), and the Phililppines Independent Church, to empower communities in that country to work together to solve problems and change lives for the better. Here is one story of communities being transformed.
"Kunak no saantay nga maaramind daytoy idi damo" ("I thought we not be able to accomplish this when we started.") said the gentleman. His neighbour responded and said, "Apay ket nga saan no agkaykaysa tayo amin nga agtrabaho." ("Why not, if we all work together?") This is a conversation that took place between two members of the Kabiraoan community in the northern Philippines as they and their fellow villagers were resting after lunch at the site of the reservoir tank where they had laid out the pipes that would bring water to the community. While this may sound like an ordinary conversation, it reveals much of how the ABM-funded project changed the situation and relationships in four villages in the Municipality of Gonzaga. The people from these villages were beneficiaries of the Kabiraoan Community Water and Sanitation Project.
Local villages are inhabited by different indigenous groups. Animosity and mistrust prevailed among these culturally very different people. During a previous project sponsored by the Department of Agriculture, when the people from all four villages had been asked to contribute community labour towards the construction of a public solar drying pavement there had been no cooperation from these neighbouring villages.
The development workers from the Episcopal Church use community asset mapping and other methods which encourage interaction among and between community members. These community meetings paved the way for the different villagers to be able to appreciate each other and to recognise each one's strengths, thus slowly developing mutual respect and closer co-operation. The project has also made possible the coming together of members of the different Church denominations and sects to work for a common cause.
The project has shown all the villagers that they can accomplish much of what they want or need by adopting a spirit of unity, cooperation and mutual respect.
*This project is supported by Australian Aid and ABM.
< Back