ABM Archive Website
THIS WEBSITE CONTAINS ARCHIVE MATERIALS FOR HISTORICAL REFERENCE ONLY
For up-to-date information, including our latest appeals, news, and resources, please visit our current website.
Third Mark of Mission
Stand in solidarity with the poor and needy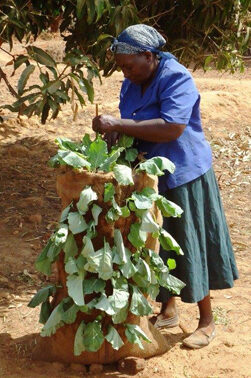 Martha tends to her garden.
© ADS-Eastern, 2013
ABM's community development program targets disadvantaged, marginalised communities, supporting those communities to use their strengths to address their own concerns. ABM's work is based on trusting, respectful relationships with our partners and the communities where they work.
In Eastern Kenya, people experience long periods of drought so often that these conditions have become the norm. Two staff members of ABM, Lina Magallanes and Beth Snedden, visited ABM's partner, Anglican Development Services (ADS) – Eastern, and saw the hardship of the communities they serve, and how the church in Kenya is standing in solidarity with those who are poor and in need.
The Kamba people in south eastern Kenya have experienced at least five periods of drought in the last ten years. Martha and her family were among those affected by the harsh conditions and she had no choice but to queue up to the local government office to receive support.
Families like Martha's are able to register with the government to access this relief support (3kg of rice or maize for each family). Martha and her family have been on the register for the last ten years. But proudly, in February this year, Martha was able to walk to the office of the district area chief and ask for her family to be taken off this list.
Martha is one of the beneficiaries of ADS's integrated food security program that works with communities to minimise the effects of climate change and periodic droughts by introducing farming techniques that promote resilience.
This program has introduced drought-resistant seeds and drip irrigation for vegetable farms which are close to the rivers or sand dams so that even with only very little water, farmers and their families can plant vegetables to eat and even to sell during drought periods.
In Martha's village, a demonstration fishpond has been recently been set up so that families can have fish throughout the whole year. Each time the fish are harvested, Martha and the other community members get a share of the harvest, as well as a share in the income from surplus fish sold in the market.
Martha has a multi-storied garden (what some call a kitchen garden) in her backyard planted with kale, spinach and other vegetables. She learned how to grow this food and look after it through the ADS program. After receiving training in poultry and goat raising she is breeding these animals and taking care of an organic farming compost.
ABM works in partnership with ADS – Eastern to help communities in the Ukamba region improve their livelihood and increase their resilience to the effects of climate change. This 3-year integrated food security program works with women and men with small farms, providing training in new agricultural techniques and teaching them environmental conservation measures to improve productivity, among other things.
*This project is supported by Australian Aid and ABM.
< Back