ABM Archive Website
THIS WEBSITE CONTAINS ARCHIVE MATERIALS FOR HISTORICAL REFERENCE ONLY
For up-to-date information, including our latest appeals, news, and resources, please visit our current website.
ACPNG Primate condemns sorcery and witchcraft killings
February 15, 2018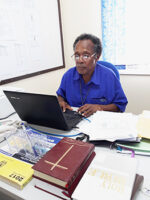 Archbishop Allan Migi, the Primate of the Anglican Church of Papua New Guinea, has issued a statement in response to the increasing number of alleged witches and sorcerers being killed, after a child was recently killed suspected of being a witch. The following article is from the Anglican Communion News Service website:

Archbishop condemns child "witchcraft" murders as "child abuse in its worst form"
[ACNS February 13, 2018] The Primate of the Anglican Church of Papua New Guinea, Archbishop Allan Migi, has spoken out against the increasing number of alleged witches and sorcerers being killed. He said that the recent killing of a child suspected of being a witch was "strongly opposed to the way of Christ", describing it as "child abuse in its worst form." He said: "We strongly call for such practices to cease."
Last week, the UN High Commissioner for Human Rights, Zeid Ra'ad Al Hussein, visited PNG, and called for "decisive action" by the government to tackle "difficult human rights challenges, including the endemic gender-based violence and horrific attacks against those accused of sorcery in Papua New Guinea."
"Sorcery and witchcraft-related killing has now become one of the big issues and concerns in Papua New Guinea," Archbishop Allan said. "Killing or taking away somebody's life in suspecting him or her as a sorcerer must not be the way to answer or solve the issue. We have the rule of law in the country that the law breakers can be brought to justice and can be punished.
"As we understand, most sorcery and witchcraft killings are based on suspicion rather than proof. If we are suspecting that somebody is doing wrong we can report the matter to the law. The wrongdoer can be arrested and brought to justice and be judged and put in jail or be punished.
He described the practice of sorcery and witchcraft as "an evil thing"; but added that "the killing of a suspect or taking somebody's life is an act of evil. Both practices are evil in our country which we label as a Christian country."
Last month, PNG's new police minister, Jelta Wong, unveiled a new police task force to tackle attacks on suspected witches. " It's not in our history . . . to burn people or stone them for sorcery," he told Radio New Zealand. "This type of sorcery has become very violent. . . In the last year or so it's accelerated so much, we've found that there's an outside influence.
"And most of our people in the villages are not as educated as we'd like them to be, but they seem to follow the trend of information coming in, it's become a big hassle. Like every little thing now: even if it's a proven disease, it takes just one person to get up and say 'she mentioned this guy's name' and they take it out of context; and you've got a whole group of people chasing around one person. We're trying to get to the bottom of it."
There has been an increase in sorcery-related killings in PNG in recent months, with observers saying that people are making false claims in order to persuade a mob to attack somebody as a way of settling scores.