ABM Archive Website
THIS WEBSITE CONTAINS ARCHIVE MATERIALS FOR HISTORICAL REFERENCE ONLY
For up-to-date information, including our latest appeals, news, and resources, please visit our current website.
An island lost to the waves
Rt Rev William Pwaisiho takes a journey to visit the remote island of Walande in the Malaita Province of the Solomon Islands. Originally from Malaita, Rt Rev Pwaisiho has spent a number of recent years living in the Diocese of Chester in England, and so had not visited Walande Island since 2002.
He is shocked at the transformation. Once home to a thriving village, the island has since been "lost to the waves". Susan Fakaia, an older woman from Walande, tells the story of when the water broke through the sea wall;
"I was in my house, and I heard screaming around the village, and I saw the… waves were breaking against the wall stone, and suddenly the wall stone break down. And waves keep on coming in, and a lot of waves keep coming and breaking the whole week. And I was feeling so frightened, because this is the first time since I was growing up in this village, I have seen something like that."
The villagers quickly relocated to a larger island nearby, and are now left to ponder what happened.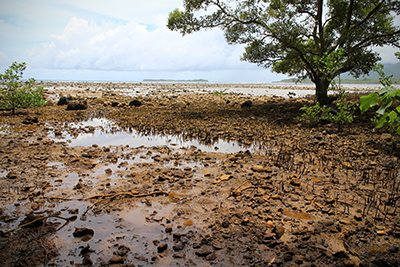 Severe coastal erosion in Vanua Lava, Vanuatu. Jess Melas, ABM 2016
One man is quick to blame Climate Change.
"The weather is abnormal, it's not really following the pattern as we have seen before. From what I see, the problem is solely caused by Climate Change."

– Peter Wate
Although this answer seems inadequate in explaining the sudden demise of Walande, current research by many scientists confirm Climate Change is a major factor. Studies published in Environmental Research Letters[1] in May 2016 indicate that areas of the Pacific sustain rates of sea level rise between 3-5 mm per year, which is slightly above the global average. Erosion and coastal flooding remain two of the most pressing issues facing villages throughout the region, with satellite monitoring now confirming numerous anecdotal accounts of the dramatic changes to coastlines.
In the Solomons Islands alone, at least five remote reef island have recently been totally lost to the sea, and a further six islands have been severely eroded.
According to the Pacific Climate Change Science Program (PCCSP), increases in the frequency and severity of tropical cyclones can also be attributed to changes in the global climate. These cyclones wreak havoc on communities throughout the Pacific, contributing to costal erosion and destroying livelihoods. The PCCSP predicts these extreme weather events will continue to increase in the future, as well as increases to air temperature, ocean acidification and coral bleaching.
When asked how he feels about Climate Change, Peter responds;
"I feel scared about it. And even our children too are often scared. Because it's beyond our reach, what we are going to do about it. It's out of the way we can control it."
ABM is working to support communities such as the one from Walande, implementing Disaster Risk Reduction and Disaster Response programs through our local partners in the Pacific. To read more about these programs, visit these links;
---
[1] http://iopscience.iop.org/article/10.1088/1748-9326/11/5/054011