ABM Archive Website
THIS WEBSITE CONTAINS ARCHIVE MATERIALS FOR HISTORICAL REFERENCE ONLY
For up-to-date information, including our latest appeals, news, and resources, please visit our current website.
Looking over the horizon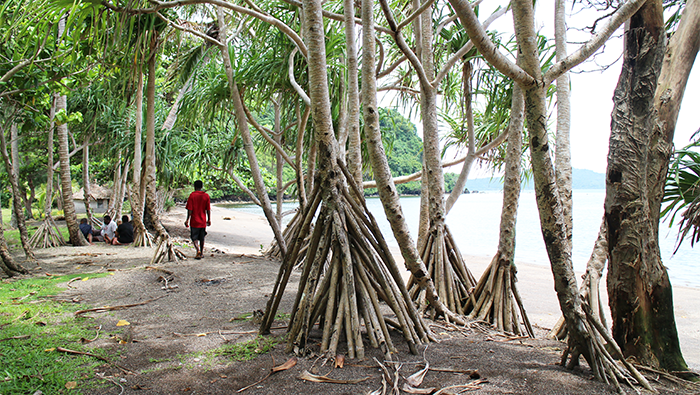 The Bishops of the Anglican Church in Aotearoa, New Zealand, and Polynesia meet at least twice a year, and at one of these meetings they ask the Anglican Church of Australia to send a bishop to observe and participate. In 2015 Bishop Cam Venables, a regional bishop from the Diocese of Brisbane, joined their meeting on a small island off the coast of Viti Levu.
The host for the gathering was the Most Reverend Winston Halapua, Archbishop of Polynesia. Archbishop Winston explained that he had convened the meeting on the island, rather than an air-conditioned conference centre in Suva, for two reasons. The first was that the bishops had to be more present to one another. Not only for worship, discussion, and meals; but, also the everyday things of washing and walking. We could not physically leave the island to catch up with friends, and there was no internet to connect digitally with the outside world.
The second reason was that on the agenda there was scheduled discussion about the developing impact of climate change. Archbishop Winston explained that no matter what carbon emission levels the Paris Agreement negotiated, the island on which we met would be uninhabitable within twenty years. Due to rising sea levels, the land available for food gardens had already been reduced, so arrangement had been made for those who lived on Leleuvia to be relocated to the larger island of Viti Levu. A pragmatic and generous response, and a sobering reminder of the reality facing many island communities throughout the Pacific.
But, pragmatism and generosity was not limited to the physical relocation of island communities. As a theological educator, well known for his writing about moana theology, Archbishop Winston was keen to hear how Newton Theological College was going in Papua New Guinea. He explained that he would be happy to release two lecturers from Fiji, with post-graduate degrees in theology, to strengthen the teaching staff of Newton College. When asked why, he explained that within fifty years, because of climate change, Anglican communities in the Pacific would need the Anglican Church of PNG to be strong, and good leadership would play a key part in this!
They have need of us now… and, we will have need of them in the future. So, communities losing their land to rising sea-levels are given land in other places, so that they can look after themselves, and contribute to society.
One part of the Church, struggling to develop and resource leadership, is offered resources to enable this, because of the recognition… that, ultimately we are related to each other in God.
Pragmatic, generous, and prophetic insights for us to consider in our Australian contexts of Church and Society… How do we make spaces for those in need, so that they can flourish and contribute to society? How do we respond to parts of the Church that are struggling, in ways that will strengthen and enable?
E te Ariki, kia aroha mai. E te Karaiti, kia aroha mai. E te Ariki, kia aroha mai. Amine.
Lord have mercy. Christ, have mercy. Lord, have mercy. Amen.
+Cam Venables
August, 2018
>> Find out more about the Season of Creation here
< Back