ABM Archive Website
THIS WEBSITE CONTAINS ARCHIVE MATERIALS FOR HISTORICAL REFERENCE ONLY
For up-to-date information, including our latest appeals, news, and resources, please visit our current website.
Al Ahli Arab Hospital director honoured
June 22, 2017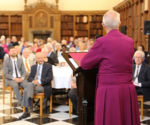 The Anglican Communion News Service this week reported the presentation of The Langton Award for Community Service, in a special ceremony at Lambeth Palace.
The award went to Suhaila Shawqi Tarazi, the director of the Al Ahli Arab Hospital in Gaza, and the coordinator of the Child Nutrition Project, which is partly funded by ABM.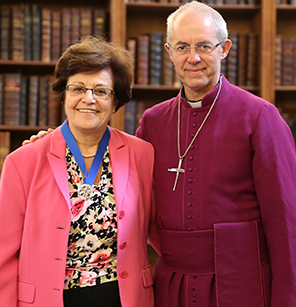 Suhaila Tarazi and Archbishop Justin Welby.

Suhaila Shawqi Tarazi recieved the award "for outstanding service to the community in one of the poorest and most neglected corners of the world, overseeing with a calm grace, the provision of vital medical services at the Al Ahli Arab Hospital."
The ceremony honoured 35 people from around the world, with various awards that recognise outstanding service to the church.
Archbishop Justin Welby presented the awards, saying he "wanted the lives and actions of those receiving these awards, which exemplified the Church's beliefs and values, to be visible to the Church and the wider world." He quoted the prayer of St Ignatius of Loyola to exemplify the spirit of these servants:
"Teach us, good Lord, to serve you as you deserve, to give and not to count the cost, to fight and not to heed the wounds, to toil and not to seek for rest, to labour and not to ask for any reward, save that of knowing that we do your will."
ABM would like to warmly congratulate Suhaila on this award, and the dedication and selflessness with which she serves the people in her community.
To read the full article, click here.