ABM Archive Website
THIS WEBSITE CONTAINS ARCHIVE MATERIALS FOR HISTORICAL REFERENCE ONLY
For up-to-date information, including our latest appeals, news, and resources, please visit our current website.
Amity Foundation in China celebrates 30th Anniversary
December 17, 2015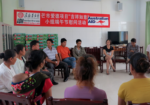 In October this year ABM's Executive Director the Rev John Deane was invited to attend the 30th Anniversary of the Amity Foundation in China. While he was there, he visited some project sites with other partners of Amity and had also been invited again to run several workshops for the Rende Foundation.
The Amity Foundation was set up by the Christian Chinese Council as its non-governmental organisation (NGO) operating unit. There is a historic connection between Amity and the Anglican Church in that, Bishop Ting who was the last consecrated Anglican Bishop living in China, was very instrumental in setting up both the Christian Chinese Council and the formation of Amity. He was also a strong voice in the Three-Self Movement which basically gave post-denominational Christianity in China its rationale and its theological foundation.
Amity is not only involved in development, social welfare programs and emergency relief work but is also responsible for the printing of bibles.
John says, "It is now one of the largest bible printers in the world which is quite an amazing phenomenon, given that several decades ago we were still raising money to send bibles to China."
Prior to the celebrations, John was in Shanghai where he ran some workshops for the Rende Foundation, the 'sister' organisation of Amity. It was set up to work with civil society and philanthropic foundations in Shanghai and supports these foundations in improving and developing so that they can focus on their work. He found it exciting to see many new ones with lots of energy and new ideas, and was able to share his insight particularly in fundraising and marketing. Not only were they learning from the Australian perspective, but he also learnt a lot about what they were doing and the issues they were dealing with.
As part of the celebration Amity had some major presentations. John was asked to be the consultant on the development panel that provided the feedback on six presentations which were given on the day. All the presentations were translated from Mandarin into English which was a bit challenging but he says:
"There were six really excellent presentations on both theory and practice as far as community development goes. Some with really new ideas and others reflecting on years of experience and things they learnt and wanted to share. So it was a great opportunity."
Amity's work has grown significantly over the years and as part of the 30th Anniversary celebrations they announced that they have already opened an office in Ethiopia, and will be opening another one in Geneva in the very near future. John sees this as a sign of their commitment not only to work in programs in China, but also in other parts of the globe.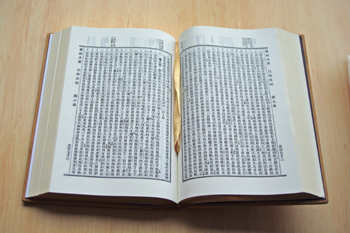 A bible printed by the Amity Foundation. © ABM 2012
"I was also really very touched by the extent to which Amity recognised ABM's role and connection, and throughout the whole celebration we were always given a very high recognition and standing, and it was much appreciated," he says.
During his time there, John travelled to Hunan Province with other partners and went to project sites there.
Hunan province is located in South Central China and is renowned for its spicy food and the significant minority groups living in the area. The group went to a place with the 8th largest ethnic minority in China called the Tujia. Amity has been involved in helping them with local development projects to improve health and income generation, as well as to obtain the status of being a world heritage cultural site which was granted to them. They visited 'villages' which are really towns or cities, with important cultural heritage dating back 700 or 800 years.
John says, "So it was a really fascinating visit. I met a lot of interesting people that had very long connections with China, with a very diverse group of partners coming from northern Europe, the UK, America, and Canada. They all were sharing and representing both missionaries and people who worked in China, or groups or partners like ABM that worked with Amity. So that was a great time together."
The Rev Rachel Carnegie, Co-Director of the Anglican Alliance, had also been invited to the celebrations. The Alliance is working to connect with Amity through its development program so it had been a great opportunity for her to learn more about the organisation. Both she and John, who is the Anglican Alliance's Advisory Council Chair, came away from the visit feeling very enthusiastic and inspired by the experience.