ABM Archive Website
THIS WEBSITE CONTAINS ARCHIVE MATERIALS FOR HISTORICAL REFERENCE ONLY
For up-to-date information, including our latest appeals, news, and resources, please visit our current website.
An afternoon tea with Rev'd Lois Nadjamerrek
September 28, 2016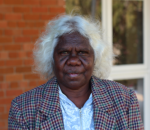 ABM's Programs Director was privileged recently to speak with Rev'd Lois Nadjamerrek, an Anglican priest from Gumbalanya, east of the Alligator River in the Northern Territory. Lois was at ABM's 2016 Diocesan Representatives' Conference at St John's, Reid, ACT, representing Aboriginal Anglicans in the Northern Territory.
I had been aware that Lois was made deacon during 2009 at about the same time as the then Bishop of the Northern Territory, Bishop Greg Thompson, had ordained two other Aboriginal deacons and two priests, mostly in East Arnhem Land. I had witnessed the ordination of the other four, but not that of Lois, so I was interested to hear of her own journey into priesthood.
This is what Lois told me over afternoon tea:
"It was my mother who first heard the Christian gospel… but when I was a little girl, living in the mission of Gumbalanya, around 15 years of age, I was drawn into a church where I heard people singing hymns in English. I loved to hear this singing, and I knew these adults were singing to God. I listened very carefully and was able to learn some English words. I could not speak English in those days. My language is Kunwinjku.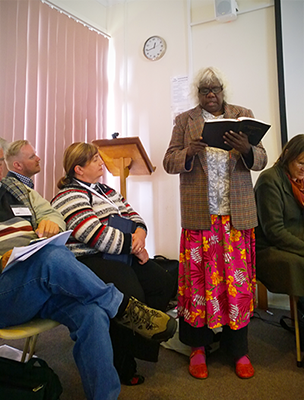 Rev'd Lois reads the bible in her own language
"Then years passed and I did not go to the church. I was about 20 or 30, and I had a dream. I dreamt about Moses and the burning bush. When I woke I took this as a sign that my life was to be something like Moses' life. Moses journeyed with the people through the desert. It was not easy for Moses keeping those people faithful. They found many other gods to worship. But then God told him to find someone to help him and he found his brother, Aaron.
"So I returned to the church. I always felt God was calling me like he called Moses.
"Then my people started asking me to be with them when there was a funeral, or a memorial service for one of their family members. Many of our people are dying. But in those days I always had to ask the bishop to send someone from the diocese to help me. So eventually the bishop ordained me deacon and then priest, and now I take these funeral and memorial services in my community myself. I take these services, I stand with the family who are mourning, so they can say goodbye to their loved one. This is very important for them.
"As well as taking these services, I also share the gospel with my people.
"I am always happy to know that verse from the Gospel of John, that God loved me and loves us all from the beginning, before we even came into being. God loves us all, it doesn't matter that we are all different. When I say we are all different, I mean we speak many different languages."
The next day, Rev'd Lois kindly consented to talk with me on video about her Christian journey. You can watch this very moving talk on ABM's YouTube Channel at https://www.youtube.com/watch?v=SZlG-zaDp_U
Dr Julianne Stewart
ABM Programs Director