ABM Archive Website
THIS WEBSITE CONTAINS ARCHIVE MATERIALS FOR HISTORICAL REFERENCE ONLY
For up-to-date information, including our latest appeals, news, and resources, please visit our current website.
Anglican Alliance's Program has First Graduate From Zambia
January 14, 2014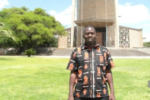 "The Agents of Change program has made me realise that the passion I had to serve the community can come true…"
Isaac Nhdlovu (at right in photo outside the cathedral in Lusaka, Zambia) graduated from the Anglican Alliance's ground-breaking Agents of Change course in late 2013. His success was welcomed by the Anglican Alliance chair, Archbishop Albert Chama, who said that Isaac has blazed a trail for others to follow and would inspire his fellow students around the Communion.
Archbishop Chama said, "Agents of Change is a rigorous academic course, developed for the Anglican Alliance by The Open University in the UK. Completing it requires commitment, especially for people who have work and family obligations."
Isaac started studies in the Agents of Change program in 2012, and completed the six modules: consultation, inclusion, governance, protection of vulnerable people, finance and work programming. Each module involved reading, practical activities, and discussions with a support group of fellow students. The lessons learned in each module had to be applied to a practical program so that, at the end of the course, Isaac had a proposal for a project that could be completed and bring benefits to his community.
Supporting him in his project work has been Eleanor Sanderson, a lecturer in development studies in New Zealand. She said that Isaac's project work was comparable with some of the best she had ever seen.
Isaac's project, designed as part of the program, was to set up a motorbike ambulance service to provide access to health services. This especially targeted pregnant women who often need life-saving and cannot travel the long distances to get to a hospital. This course assignment was not just an exercise for Isaac – it is his vision and long-term goal to have sufficient funding to set up a motorbike ambulance project in his own local community.
Isaac commented, "The Agents of Change program has made me realise that the passion I had to serve the community can come true… Looking at the high rate of maternal mortality in the rural areas and the transport problems which people face in rural communities, I thought I could do something to help improve access to good health, instead of letting people die in their homes due to a lack of transport."
Married with two children, the 37 year old Isaac found it challenging balancing family life and work commitments with finding time to study. The course has been a real sacrifice for Isaac and his family. For the last fourteen years Isaac has worked with the Anglican Church of Zambia – Zambia Anglican Council (ZAC). He currently has a demanding, multi-faceted and rewarding role working with the Zambian Bishops, the General Secretary, and the National Programs Office facilitating in administrative matters, and event management.
Isaac regularly facilitates ABM staff visiting ZAC. Following a trip to Zambia in July, ABM's Africa Program Officer Beth Snedden commented, "Isaac was not only our driver for our 3 day monitoring trip (1,400 kms); he was also a strong source of information about the culture and the places we visited. What impressed me the most though, was that after 7 hours of driving on the first day, he said he needed to work on his Agents of Change assignment. Strong dedication and commitment to his study, and to his end goal of inputting back into his local community."
The Most Rev'd Albert Chama, who is the Archbishop of Central Africa (including Zambia) said he was delighted to see the first student come from one of the pilot projects in Lusaka.
He said,"So many congratulations to Isaac and every blessing on his work as an Agent of Change here in Zambia".
Zambia's success in the Agents of Change program is expected to continue as Rev'd Gabriel Phiri and Rev'd Edwin Mwanza are also nearing the end of their studies.
(Article sourced from Anglican Alliance website with permission, and adapted by Beth Snedden)