ABM Archive Website
THIS WEBSITE CONTAINS ARCHIVE MATERIALS FOR HISTORICAL REFERENCE ONLY
For up-to-date information, including our latest appeals, news, and resources, please visit our current website.
Anglican Church in Hong Kong addressing aging population
January 5, 2018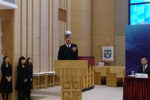 [ACNS January 4, 2018] The Welfare Council of the Hong Kong Sheng Kung Hui – the Anglican Church in Hong Kong – is working with the government to help respond to a predicted "silver tsunami" – an increasingly aging population. Dr Law Chi-kwong, Hong Kong's secretary for Labour and Welfare, said that the "silver tsunami" would bring on a surge in demand for elderly care services in the next several decades. He revealed that the church was planning an innovative project that would provide the elderly with affordable accommodation and accessible facilities; and he said that the government was "proactively considering appropriate supporting policies".
Read the full article on the Anglican Communion News website:
Anglican Welfare Council helps Hong Kong respond to the "silver tsunami"