ABM Archive Website
THIS WEBSITE CONTAINS ARCHIVE MATERIALS FOR HISTORICAL REFERENCE ONLY
For up-to-date information, including our latest appeals, news, and resources, please visit our current website.
Anglican Church of PNG announces support for joint earthquake response
March 23, 2018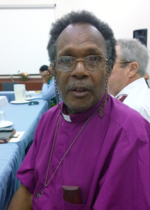 Yesterday the Anglican Church of Papua New Guinea (ACPNG) announced their support for the joint church earthquake response through the Church Partnership Program (CPP). The attached press release was read to the Provincial Council meeting on Thursday 22nd March 2018 in Lae, PNG.
The joint church response team are currently assessing and finalising preparation for response activities, which will focus on supporting affected communities to have access to food and non-food relief items, access to health and hygiene kits, temporary shelters, and counselling support.
The support will be facilitated through Anglicare PNG and the existing CPP network comprising of the seven mainline churches.
To donate to ABM's PNG Earthquake Emergency Appeal in support ACPNG and Anglicare's response, please visit www.abmission.org/png-earthquake-emergency