ABM Archive Website
THIS WEBSITE CONTAINS ARCHIVE MATERIALS FOR HISTORICAL REFERENCE ONLY
For up-to-date information, including our latest appeals, news, and resources, please visit our current website.
Anglican Communion primates invited to Church of England's General Synod
January 25, 2018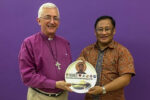 [ACNS January 19, 2018] Four primates from member churches of the Anglican Communion have been invited to attend next month's meeting of the Church of England's General Synod. The Synod will debate a motion affirming the companion links between the Church of England's dioceses and other churches of the Communion. The motion calls on "parishes, deaneries and dioceses of the Church of England to make international links a central part of their strategy for mission and discipleship." And it asks dioceses to use companion links to "maximise their contribution to the hospitality programme prior to the Lambeth Conference" which is due to take place in 2020.
The C of E said that this was the first time that its Synod will have welcomed a group of representatives from other Anglican Communion provinces. The invited primates are Archbishop Moon Hing, Bishop of West Malaysia and Primate of South East Asia; Bishop Humphrey Peters, Bishop of Peshawar and Moderator of the Church of Pakistan; Archbishop Thabo Makgoba of Cape Town, from the Anglican Church of Southern Africa; and Archbishop Winston Halapua, Bishop of Polynesia and one of the Primate of the Anglican Church in Aotearoa, New Zealand and Polynesia.
Read the full article on the Anglican Communion News website:
Anglican Communion primates invited to Church of England's General Synod