ABM Archive Website
THIS WEBSITE CONTAINS ARCHIVE MATERIALS FOR HISTORICAL REFERENCE ONLY
For up-to-date information, including our latest appeals, news, and resources, please visit our current website.
Anglican Priest Elected as President
November 2, 2020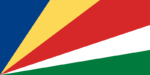 In 1976 the Seychelles, an island republic off the east coast of Africa, became independent from Britain. Since that time only a single party had held the presidency of the country till late last month. The election was won by the Rev Wavel Ramkalawan, an Anglican Priest of the Diocese of Seychelles (part of the Church of the Province of the Indian Ocean). The official results showed that he took 54.9% of the vote, whereas the incumbent, Danny Faure, gained only 43.5%. It was not Fr Wavel's first attempt to gain office but his seventh. Media reported that in his election night speech Fr Wavel noted that he and Mr Faure were good friends and that the election did not mean that anyone had to forgo contributing to the country. 'In this election, there were no losers, there were no winners – our country was given the opportunity as the ultimate winner.'
Let us pray for the Seychelles, for Fr Wavel as he takes up the presidency of the archipelago, and for his family. May he uphold the office of President and the Constitution of the Republic of the Seychelles with honour and integrity, guided by the Holy Spirit.