ABM Archive Website
THIS WEBSITE CONTAINS ARCHIVE MATERIALS FOR HISTORICAL REFERENCE ONLY
For up-to-date information, including our latest appeals, news, and resources, please visit our current website.
Archbishop Allan Migi resigns due to ill health
May 4, 2020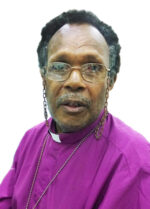 From the General Secretary of the Anglican Church of Papua New Guinea, Mr Dennis Kabekabe:
Primate and Archbishop of the Anglican Church of Papua New Guinea
OFFICIAL ANNOUNCEMENT ON THE RESIGNATION
Archbishop Allan Migi has formally handed in his resignation letter dated 2nd of April 2020. The Archbishop has resigned due to his prolonged health condition and slow recovery that has affected his Episcopal roles and responsibilities to the Anglican Church of Papua New Guinea in the last few months.
His resignation will become effective on the 11th of May, 2020. Senior Bishop Nathan Ingen has received Archbishop's resignation letter and has officially accepted his resignation on the 28th of April, 2020. Senior Bishop Nathan will act as Archbishop until such time a new Archbishop is appointed.
We thank Archbishop Allan Migi for his humility and Good Shepard leadership with obedience and commitment in serving ACPNG as a cleric for 30 years. We wish him well in his recovery to good health after this resignation. We take this time to also thank Mother Mary Migi for her support to Archbishop Allan Migi and the work she has done with the Mothers' Union.
Lastly, we offer our continued prayers for Archbishop Allan Migi and his family as they prepare to return home to West New Britain.