ABM Archive Website
THIS WEBSITE CONTAINS ARCHIVE MATERIALS FOR HISTORICAL REFERENCE ONLY
For up-to-date information, including our latest appeals, news, and resources, please visit our current website.
Archbishop Freier appointed to Communion's Primates' Standing Committee
January 19, 2016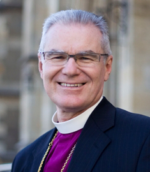 It has been announced that Australia's Anglican Primate, The Most Reverend Dr Philip Freier, is one of five Primates who have been appointed to the worldwide Communion's Primates' Standing Committee. The following article was published on the Archbishop's website www.anglicanprimate.org.au:
18 January, 2016

Dr Freier in key role
Melbourne Archbishop Philip Freier, Primate of the Anglican Church of Australia, has been elected to the worldwide Communion's Primates' Standing Committee, part of the the global Anglican Church's top consultative group, the Anglican Consultative Council.
He was one of five Primates voted on to the committee, by regions, at last week's meeting of the world's 38 Anglican Primates at Canterbury, England, called by the Archbishop of Canterbury, Justin Welby.
Dr Freier represents the Asia Pacific region of the global church, which claims 85 million members in 165 countries, the world's third largest Christian group after the Roman Catholic and Orthodox churches.
He was elected by the Primates of the Asia Pacific – Korea, Japan, Hong Kong, Myanmar, South-East Asia, Papua New Guinea, Melanesia, and Aoteroroa NZ and Polynesia. Archbishop Stephen Than from Myanmar is the alternative representative if Dr Freier cannot attend meetings.
The other Primates elected to the Standing Committee were Archbishop John Holder from the Caribbean for the Americas, Archbishop Thabo Makgoba from South Africa for Africa, Archbishop Richard Clarke from Ireland for Europe, and Archbishop Mouneer Anis from Egypt and the Middle East for Asia.
Among the meetings Dr Freier will attend this year are the Anglican Consultative Council meeting in Lusaka, Zambia, in April and the ACC Standing Committee meeting in September in London.