ABM Archive Website
THIS WEBSITE CONTAINS ARCHIVE MATERIALS FOR HISTORICAL REFERENCE ONLY
For up-to-date information, including our latest appeals, news, and resources, please visit our current website.
Archbishop of Canterbury attends new Australian Primate's Inauguration
August 14, 2014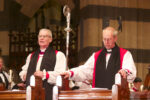 The Archbishop of Canterbury, Justin Welby, is at the end of the Australian leg of his 10-day trip to visit Anglican leaders in the South Pacific region. He has already been to the Philippines, Papua New Guinea, and the Solomon Islands and will finish his tour in New Zealand tomorrow. He is the first Archbishop of Canterbury to have visited Australia since Dr George Carey in 1997.
The Archbishop was here to attend the inauguration of the new Primate of the Anglican Church of Australia, Archbishop Philip Freier, at St Paul's Cathedral in Melbourne on Wednesday 13th August.
Prior to the event, there was a joint press conference with both Archbishop Welby and Archbishop Freier in attendance. They spoke out against the worsening situation in northern Iraq and backed the call for persecuted Iraqi Christians to be granted asylum in their respective countries.
Questions during the press conference covered a wide range of issues from declining numbers in the Church to how the Church is dealing with allegations of Child sexual abuse.
ABM's Christopher Brooks asked Archbishop Welby about his involvement with Andrew Forrest's Global Freedom Network that aims to eradicate modern slavery and human trafficking, and what Australians Anglicans can do to support this cause. The Archbishop spoke about the need for changes to regulations on supply chain management of products, the issue around immigration, and as the Church, "believe in the liberation and freedom that Christ brings."
At yesterday's inauguration in St Paul's Cathedral, ABM was represented by Executive Director the Revd John Deane, with board members Bishop Garry Weatherill and Bishop Chris Jones in the official party.
The cathedral was filled to capacity with the service being broadcasted on the widescreen in Federation Square.
There was a welcome to country by Aunty Di Kerr, and a welcome by others in 9 different world languages.
Archbishop Welby preached the sermon, with a commemoration to Jeremy Taylor. He spoke of the challenges faced by the Church today, and urged us to heed Jesus' call "to be a church freed for purity and good deeds, abounding in the luxuriant and gracious wisdom from above."
ABM warmly congratulates Archbishop Freier on his installation as the new Primate and look forward to working together with him in God's mission.
View the Archbishop of Canterbury's sermon here.
Visit ABM's Flickr page to view photographs from this event.