ABM Archive Website
THIS WEBSITE CONTAINS ARCHIVE MATERIALS FOR HISTORICAL REFERENCE ONLY
For up-to-date information, including our latest appeals, news, and resources, please visit our current website.
Archbishop of Canterbury's newest book
February 27, 2018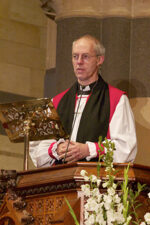 Archbishop of Canterbury explores the role Christian values play in society
[ACNS, by Amelia Brown – February 26, 2018] The Archbishop of Canterbury's newest book, Reimagining Britain: Foundations for Hope, tackles the values that define the UK in a post industrial, post-Brexit landscape, and challenges the reader to consider a return to Judaeo-Christian values. The book, to be released early next month, is not a discussion of the place of church and state. Neither is it a critic of secular culture. Instead, it encourages the reader to redefine those values that we define ourselves by in favour of those that lift up society rather than drag it down.
These values which Archbishop Justin Welby addresses have historically defined British culture, and gone on to define a sense of right and wrong across the world. While he speaks to the need within the UK to re-examine what it defines itself by, he opens up the opportunity for cultures and churches across the world to re-examine their own values and place in society. As he says in his introduction: "In essence, it [this book] argues that a society that lives in love will flourish and develop, and it will liberate the vast majority of its members, whether or not they themselves accept the premises of the Christian faith."
Reimagining Britain: Foundations for Hope is released on 8 March.
View the full article on the Anglican Communion News Service website:
Archbishop of Canterbury explores the role Christian values play in society