ABM Archive Website
THIS WEBSITE CONTAINS ARCHIVE MATERIALS FOR HISTORICAL REFERENCE ONLY
For up-to-date information, including our latest appeals, news, and resources, please visit our current website.
Archbishop of Jerusalem reflects on refugee situation
November 4, 2015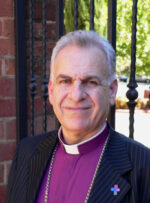 The following article was posted on the Anglican Communion News Service website on 02 November 2015 2:05PM by Archbishop Suheil Dawani.
The Episcopal Diocese of Jerusalem serves Jordan, Palestine, Israel, Syria and Lebanon. In this article, the Archbishop of Jerusalem, the Most Revd Suheil Dawani, reflects on the situation for refugees in the area.
Reflection by the Archbishop in Jerusalem on the situation for refugees in the Episcopal Diocese of Jerusalem
The Samaritan "bandaged his wounds, pouring on oil and wine; and he set him on his animal, brought him to an inn, and took care of him. The next day, when he departed, he took out two denarii, gave them to the innkeeper and said to him, 'Take care of him; and whatever more you spend, when I come again, I will repay you.'" (Luke 10:34-35)
The story of the good Samaritan is one that is a guide to Christians across the globe as to how we can be neighbours for those who need us, whoever she or he may be; and it is, I believe, relevant all the more so in our approach to how we as individuals and communities welcome and care for refugees. It is with this in mind that I write, aware of the extraordinary work that ordinary men and women in our diocese are doing in caring for refugees from Syria and Iraq. The refugee crisis is serious – very serious – and demands that we respond with compassion and care to people who have faced untold horrors, and who have had to leave their martyrs behind.
As refugees seek sanctuary, we as Christians are challenged to open our doors and share what we have with strangers. Archbishop Mouneer in his article Our calling: Welcome refugees, support development, make peace, cites Jesus commandment that we must share what we have. If we cannot for whatever reason share our house, then we must share our gifts and our resources.
Hospitality is one of the hallmarks of this diocese: for centuries we have shown hospitality to pilgrims, to people who went on their way "sometimes not knowing whither they would come", but seeking an expression of the Kingdom of God, as Abraham did. On other occasions and throughout history the churches of the region extended hospitality to the thousands of people forced to leave their homes for an unknown destination. During the past one hundred years there were Circassian refugees from Russia, Armenians from Turkey, Jews from Europe, refugees from Palestine, Iraq, Sudan, and many other places. Now our challenge is to show hospitality to yet another traveller, refugees and migrants from Syria.
At the moment Jordan welcomes some 1.25 million Syrians, 300,000 Iraqis, 400,000 Egyptians, 100,000 Libyans and 50,000 Yemenis. In Irbid (Northern Jordan) there are 250,000 refugees; and in the refugee camp of Zaatari's on the Syrian border there are some 120,000 people who live in tents and caravans. Places that were once desert are now large towns, which require infrastructure, including schools and hospitals, electricity and water, shops and roads, and much more.
One way the Church has managed to respond is through "The Network", which, under the supervision of the Revd Canon 'Brother Andrew' De Carpentier of the Anglican "Holy Land Institute for Deaf and Deafblind Children" in Salt, has brought together different local organizations providing essential medical and paramedical care to thousands of refugees with disabilities in need. The "Network" is a partnership between: The Dhia Society (a Jordanian charity for visually impaired children), The Raja society (a school for the education and training of those with cognitive issues), The Avicenna (Ibn Sina) society (a Jordanian organization for helping those with mobility issues); and the Palestine Hospital (A Church-affiliated specialist hospital for Trauma and Neurology).
Another way the Church responded is through the work of St Paul's church in Ashrafiyeh – Amman. The Reverend George Kopti describes how refugees have become part of the church family, with activities provided for the children and for women, as well as a new mid-week Bible study for the Christians who have fled. As winter approaches, the congregation are gathering gas stoves to hand, and distributing food coupons.
The Revd Canon Samir Esaid, vicar of the Virgin Mary Episcopal Church in Irbid, explained how his church is reaching out to refugees in the community with a special focus on providing education and support to parents of children who are blind or visually impaired. It helps parents cope with their children who attend the Arab Episcopal School for visually impaired and sighted children. Not only did they take in refugees as students, but in one instant also had a refugee working as a volunteer teacher in the school. He explained that for many the border between Syria and Jordan was quite arbitrary as related families were living on both sides, with many Jordanians now looking after their Syrian relatives.
It is hard for those who have not experienced the need to flee their homeland to envisage what life is like. Where is the next meal? Where will I sleep tonight? What about my children's education? What shall I do for my child who is ill? Where shall I go with my child who is blind or deaf, who is traumatized and disturbed? Who can help me with a child that has mobility problems, suffers of epilepsy or cerebral palsy? These are real questions for real people looking for sanctuary, safety and friendship.
What is heartening is that these experiences give us all faith in humanity and encourage us to go the extra mile and help those in need as Christ asks us to. If all of us, whoever and wherever we are, can reach out to those who are suffering, whether they are strangers seeking sanctuary or are well known to us, I believe our lives will be transformed and become more like the person Christ calls us to be: Good Samaritans, brothers to all whom we encounter, sharing our gifts, and ultimately grafting our lives more into Jesus when his love, compassion and generosity work in and through us.
Amen