ABM Archive Website
THIS WEBSITE CONTAINS ARCHIVE MATERIALS FOR HISTORICAL REFERENCE ONLY
For up-to-date information, including our latest appeals, news, and resources, please visit our current website.
Archbishop of PNG awarded Queen's Diamond Jubilee Medal
June 13, 2019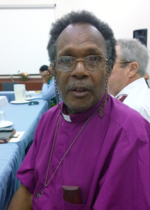 Hearty congratulations to the Archbishop of Papua New Guinea, the Most Rev Allan Migi, who was awarded the Queen's Diamond Jubilee Commemorative Medal in the Papua New Guinea Queen's Birthday Honours list.
Archbishop Allan is from Gasmata in West New Britain Province and comes from a family which has always been strongly connected with the church so he sees his involvement as being "a family interest and family calling".
After finishing high school in 1986, Archbishop Allan attended Newton Theological College and was ordained a Deacon in December, 1989 at Rabaul in the New Guinea Islands. He was priested in November 1990, and served in parishes in Rabaul, Frenchville in Queensland, Nindewari and Kokoda in Popondetta Diocese, and Kumbun and Menpa in New Guinea Islands Diocese.
The Archbishop was elected as the Bishop of New Guinea Islands Diocese in November 2000, and enthroned as the seventh Archbishop and Primate of the Anglican Church of Papua New Guinea on 3 September, 2017 at All Souls' Anglican Church in Lae.
His wife is Mary and they have four daughters, Annie, Dulcie, Daphnie, and Marrie and a son, Allan, and twin granddaughters.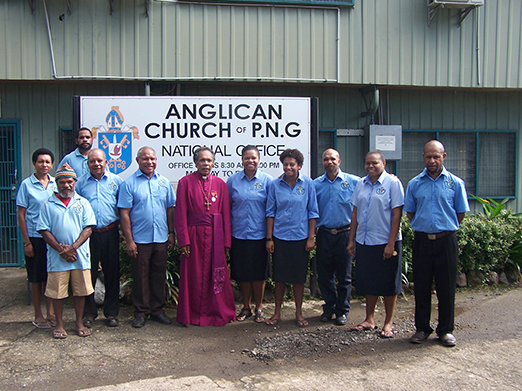 Archbishop Allan Migi with the staff of the Anglican National Office (Lae, PNG).
© Anglican Church of Papua New Guinea, 2019.