ABM Archive Website
THIS WEBSITE CONTAINS ARCHIVE MATERIALS FOR HISTORICAL REFERENCE ONLY
For up-to-date information, including our latest appeals, news, and resources, please visit our current website.
Archbishop of PNG calls for prayers and donations for earthquake victims
March 7, 2018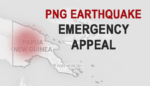 The Anglican Communion News Service has posted an article about the situation in Papua New Guinea in the aftermath of last week's earthquake. Archbishop Allan Migi, Primate of the Anglican Church of PNG, calls for prayers and assistance.
Archbishop appeals for prayers and donations as Church responds to PNG earthquake
[ACNS March 6, 2018] The death toll from last week's Magnitude 7.5 earthquake in Papua New Guinea has reached 67 as aftershocks continue to hit the island. More than three tremors, each in excess of Magnitude 5, hit the island yesterday (Monday). Churches are helping to co-ordinate relief efforts and are working across denominations to ensure aid reaches those most in need.
A Church Partnership Program has brought together members of the Anglican Church of Papua New Guinea, the Baptist Union of Papua New Guinea, the Catholic Church, the Lutheran Church, Salvation Army, Seventh Day Adventist and the United Church in Papua New Guinea. The United Church has establishing church-led response centres in Tari, Hela Province and Mendi, Southern Highlands, to coordinate initial needs assessments and share church actions and to plan for the coordinated response and recovery efforts.
"People are bewildered and traumatised by the severe events . . . and families continue to sleep outside for fear of the ongoing aftershocks," said United Church Bishop Wai Tege. "People of the highlands are not used to the impact of natural disasters, and this Magnitude 7.5 earthquake has taken everyone by surprise. The last major earthquake to hit the highlands region . . . was in 1922 – almost a century ago."
The Anglican Primate of Papua New Guinea, Archbishop Allan Migi, has returned to the country following this weekend's regional Primates' Meeting in Fiji. He has told ACNS that the Anglican Church in PNG is focusing its efforts on Jimi, Chimbu, Siane and Momase areas, where homes and gardens have been severely damaged and there is a need for food, including rice, flour and oil, as well as carpentry tools, building materials, gardening tools, canvas for shelter, safe water and second hand clothes.
The Church intends to purchase supplies locallally, in Goroka or Mt Hagen, and transport them to parishes by road or air. He is asking Anglicans and others to support the emergency appeal by the Anglican Board of Mission (ABM) in Australia.
"About 150,000 [people] are in need of urgent humanitarian assistance," ABM said yesterday as they launched an emergency appeal. "Many highland villages, particularly in the area west of Mt Hagen, have been cut off by fallen power lines and blocked roads. This situation is hampering efforts to distribute emergency supplies to remote villages. There is a real concern of food shortages, as well as health and hygiene issues if aid cannot reach the victims of this disaster.
"There have been reports of three strong aftershocks of more than magnitude-5, about 600 km north-west of Port Moresby, including another shallow quake early on Monday 5 March.
"The PNG Government has declared a state of emergency for the affected regions of the Highlands in Hela, Southern Highlands, Western and Enga Provinces.
"ABM seeks to raise $50,000 [AUD, approximately £28,000 GBP] for humanitarian aid so that vital supplies of food and water can be provided for the many people in need. We are in touch with the Anglican Church of Papua New Guinea who are assessing and preparing their emergency response."
Archbishop Allan Migi has written a prayer for use following the disaster:
God our Creator, we ask your blessing and comfort during this time of disaster
We pray for all those whose lives are affected by earthquake through loss of life,
loss of homes and livelihood.
We pray for the rescue workers as they work together to bring hope to communities
torn apart by natural forces.
We pray for courage and strength to rebuild lives and move into the future.
Amen
Click here to make a donation online to ABM's emergency appeal.