ABM Archive Website
THIS WEBSITE CONTAINS ARCHIVE MATERIALS FOR HISTORICAL REFERENCE ONLY
For up-to-date information, including our latest appeals, news, and resources, please visit our current website.
Archbishop Philip Freier to resign as Primate of the Anglican Church of Australia
December 2, 2019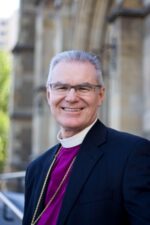 The following news article was published in The Melbourne Anglican on 25 November, 2019:

Dr Freier to resign Primacy in March but to stay on as Archbishop of Melbourne
Melbourne's Archbishop Philip Freier is to resign in March as Primate of the Anglican Church of Australia after almost six years in the role. Dr Freier is to remain Archbishop of Melbourne, a post he took up in December 2006.
The shock announcement from the Primate's office on 25 November said Dr Freier would step down on 31 March 2020, before his term was due to expire, and would not seek re-election. He would have been eligible to seek a three-year extension as Primate.
No reason was offered for Archbishop Freier's decision.
Dr Freier wrote to all Australian Anglican bishops on 25 November to say he would not accept a further term, and that he would conclude on 31 March to allow his successor to prepare for the next General Synod (national parliament) of the Church in Maroochydore, Queensland, from 31 May to 5 June next year.
He had been due to chair the synod.
"I am hopeful that my early advice to you will enable a smooth transition to be made," he wrote to the bishops.
A telephone conference of the Primatial Board of Electors is scheduled for 23 December, and the board is to meet on 14 March. The Board comprises diocesan bishops and representative clergy and laity from across Australia.
It is not clear who will succeed Dr Freier as Primate, a role whose occupant also presides at meetings of the Standing Committee of General Synod, as Dr Freier did in Brisbane early this month.
The Primate may offer support and guidance to other bishops and dioceses primarily at their invitation but has no legal power to compel other bishops or dioceses to act. He or she also has responsibilities internationally. Since 1978, the Anglican primates have met regularly for an Anglican Communion Primates' Meeting at the invitation of the Archbishop of Canterbury and while the gathering has no legal jurisdiction, it is one of the instruments of unity among the autonomous provinces of the Communion.
Dr Freier is the third Archbishop of Melbourne to be Primate: the others were Archbishop Sir Frank Woods from 1971-77 and Archbishop Keith Rayner, who celebrated his 90th birthday in Adelaide on 22 November, from 1991-99.
Archbishop Freier's announcement comes only five days after a meeting he convened of the Australian bishops to discuss some pressing issues facing the Church.
A statement posted on his Primatial website on 21 November said: "We were conscious of being upheld in prayer by the people of our Dioceses as we conferred together at a time when our unity is under pressure.
"The Primate began with prayer for all those affected by bushfire and drought, for our time of meeting and for our Church.
"There is no doubt that we are living in testing times. In a spirit of co-operation, the Bishops identified the range of issues we are facing and our desire to work together collegially for the life and witness of the Church.
"In the light of the Primate's decision to summon a meeting of the General Synod in the first week of June 2020, we welcomed the plan for a one-and-a-half-day conference to consider the range of issues the Church is facing in relation to human sexuality, same-sex relationships and marriage and possible ways forward for this Church, with the expressed intention of this being a safe place for people of differing experiences and views.
"The Bishops identified the following as having the highest priority in our shared leadership of the National Church: 'working on a mixed economy and discerning boundaries of unity'; 'responding to LGBTIQA+ people and their needs'; 'further theological work on the doctrine of marriage and blessing'; and 'building trust as a college of Bishops'.
"The Bishops' Meeting in March 2020 will continue our conversations. We ask for your prayers for us and we commit to continuing to pray for all God's people and the life of our Church."
Seven of the first eight Primates of the Church of England in Australia and Tasmania, as it was then called, were Bishops or Archbishops of Sydney from 1872 until the Constitution of the Church of England in Australia (now called the Anglican Church of Australia) came into effect on 1 January 1962. But only one Archbishop of Sydney – Sir Marcus Loane from 1978-82 – has served as Primate in the past 50 years.
Queensland-born Dr Freier's predecessor, Archbishop Phillip Aspinall of Brisbane, served as Primate from 2005-14.
Dr Freier was installed as Primate in St Paul's Cathedral during a brief visit to Melbourne by Archbishop Justin Welby on 13 August 2014, having been elected the previous June before General Synod met in Adelaide. Archbishop Freier chaired the most recent session of General Synod, in Maroochydore, in September 2017.
His successor may come from outside the metropolitan dioceses, with Sydney's Archbishop Glenn Davies having announced that he will resign in July 2020 and Dr Aspinall having already been Primate for nine years, although Archbishop Aspinall is eligible to be considered again as another bishop has held the post since his time in office.
Archbishop Kay Goldsworthy of Perth would have support in some sections of the Church but would be opposed by Sydney and other dioceses that do not accept women in the episcopate.
This leaves Archbishop Geoffrey Smith of Adelaide among the metropolitans as a potential Primate. But Bishop Richard Condie of Tasmania, a former Archdeacon of Melbourne and a leading evangelical, may be considered, as might Bishop Mark Short of Canberra and Goulburn, although he took office there only in April after eight years as National Director of The Bush Church Aid Society.