ABM Archive Website
THIS WEBSITE CONTAINS ARCHIVE MATERIALS FOR HISTORICAL REFERENCE ONLY
For up-to-date information, including our latest appeals, news, and resources, please visit our current website.
Australian Anglican Primate reflects on CCEA conference
October 12, 2015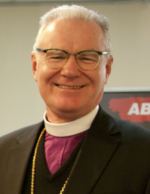 Last week Archbishop Philip Freier, Primate of the Anglican Church of Australia, attended a meeting of the Council of Churches in East Asia, which includes six other Primates or national church leaders. The meeting held in Manila, the Philippines, was an opportunity for regional Anglican leaders to discuss issues likely to arise at the meeting next January of the world's Anglican leaders. This update has been received from the Primate's office:
'The Council of Churches in East Asia Assembly happens each five years and its meeting between 7 and 12 October has taken advantage of the context of its meeting in Manila, Philippines to explore the Church's response to poverty, migration and human trafficking. We met together at a time when heavy clouds of smoke were engulfing Singapore and Malaysia from forest fires in Indonesia and all were aware of the growing regional tension in the South China Sea.
Despite the apparent prosperity in some parts of Manila evidenced by enormous retail malls and high rise condominium development the reality of poverty is otherwise visible. More than 15 million Filipinos work overseas and their remittances back to family in the Philippines are a vital part of the domestic economy. Communion partners the Philippine Episcopal Church and the Philippine Independent Church have active programs to ameliorate poverty and support workers overseas and spoke with warm appreciation of the partnership with ABM in these aspirations.
With a membership from Korea and Japan in the North, Myanmar in the West and Australia in the South the span of the Council of Churches in East Asia covers a diversity of very different social and religious contexts. We were helped in our understanding by reports from each of the member churches, some at a diocesan level and others from the perspective of the ecclesiastical provinces.
Meeting together in this way as lay, clergy and bishops strengthens the communion we share across our different contexts. We are increasingly linked together by the people movements which have happened in the last quarter of a century. Australia alone has nearly a quarter of a million people who were born in the Philippines.
While we heard about the the problems brought about by human inequality and economic injustice we also lived with the promise that all things are made new in Christ using the text of Revelation 21.5 as our point of reflection for action and future hope.'
Grace and peace in Christ Jesus,
+Philip
The Most Revd Dr Philip L Freier
Archbishop of Melbourne
Anglican Church of Australia