ABM Archive Website
THIS WEBSITE CONTAINS ARCHIVE MATERIALS FOR HISTORICAL REFERENCE ONLY
For up-to-date information, including our latest appeals, news, and resources, please visit our current website.
Australian Anglican Primate's Christmas Message
December 13, 2016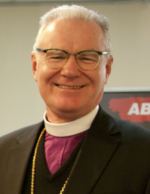 The National Council of Churches in Australia issued a media release on 7th December featuring the 2016 Christmas messages from leaders of the Christian Churches in Australia. This includes a message from Archbishop Philip Freier, Primate of the Anglican Church of Australia, which we have published here.
To view the full media release, please visit http://www.ncca.org.au/news/media-releases/item/943-2016-christmas-messages-from-leaders-of-the-christian-churches-in-australia
Anglican Church of Australia
'Christmas is for everyone'
Increasing 'Tribalism' was noted in my recent public conversation as a factor in asylum seeker policy. By "Tribalism" I mean the increasing divisions around issues and our inability to speak and engage creatively to develop satisfactory societal solutions.
Our need to speak openly and respectfully to one another is too often trumped by the deliberate and often aggressive closing down of opposing viewpoints. Thus, we see the silencing of dissent around issues such as asylum seekers, freedom of speech, climate change and indigenous wellbeing.
While the fundamentals of our democratic society are said to lie in a free press, free association and an independent judiciary, this assumes that all people are of innate worth and dignity. Tribalism undermines this basic tenet. Tribalism declares that my 'tribe', my coreligionists, are of greater worth and dignity than the rest and hence to be favoured and protected, no matter at what cost to others.
Can such "tribalism" be overcome and society built?
I believe hope is found in the greeting of the angel heralding Jesus' birth to shepherds, 'Do not be afraid. I bring you good news that will cause great joy for all the people.' (Luke 2:10)
God's love in the Christ child is for 'all people': 'God was reconciling the world to Himself in Christ' (2 Corinthians 5:19). What good news! Praise God! No "tribalism" here! This Christmas, may we value and dignify all people because Christ came to bring joy to 'all the people'.
May welcome and hospitality to all people reign this Christmas, and throughout the coming year.
Christmas is for everyone.
Archbishop Philip Freier, Primate
Anglican Church of Australia