ABM Archive Website
THIS WEBSITE CONTAINS ARCHIVE MATERIALS FOR HISTORICAL REFERENCE ONLY
For up-to-date information, including our latest appeals, news, and resources, please visit our current website.
Australian Christian leaders call for children's release from detention.
December 3, 2015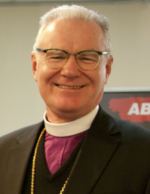 From the Australian Anglican Primate's website: www.anglicanprimate.org.au

30 Nov 2015
Christian leaders call for release of children in detention
Anglican Archbishop of Melbourne and Primate of Australia Philip Freier is among the Australian religious leaders who have signed an open letter calling for asylum seeker children to be released from detention before Parliament adjourns for the year Thursday 3 December.
"In the next week, you have the opportunity to decide whether to release children and their families from immigration detention," they write in the letter. "This is a critical moment in the history of this nation."
The leaders also lobbied MPs from all parties throughout the week.
Sister Anne Lane, spokesperson for the group, told Fairfax Media there was "a wonderful sense across all parties that it's time to do this".
She said the issue had been discussed at a cross-faith meeting of around 40 Christian, Muslim and Jewish leaders in October. "I think there is a sense among all of us that there has been a shift in the community and we need to make doubly sure our politicians are aware of it," she said.
The letter was published in a half-page advertisement in the Sydney Morning Herald. Other signatories include Catholic Archbishop of Melbourne Denis Hart, President of the Uniting Church in Australia, Stuart McMillan, and congregational leader of the Sisters of Charity, Sister Clare Nolan.
Australia continues to hold in closed detention about 2044 people, including 113 children.
> Read a related article on the SMH website: Religious leaders push for release of asylum seeker children before Christmas.