ABM Archive Website
THIS WEBSITE CONTAINS ARCHIVE MATERIALS FOR HISTORICAL REFERENCE ONLY
For up-to-date information, including our latest appeals, news, and resources, please visit our current website.
Bishop calls for Anglicans to advocate for Climate Justice
November 19, 2015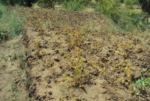 The Right Reverend Tom Wilmot, Assistant Bishop of Perth and Member of the Anglican Environment Network, has issued a passionate call for Anglicans to take three steps around Climate Change in the lead up to 2015 UN Climate Conference in Paris (Paris COP21).
MAKE PILGRIMAGE
Bishop Tom asks Anglicans to wear purple, carry a banner and join the Global People's Climate March on Sunday 29 November to "show that the world is our home and we don't have a planet B".
PRAYER
On Sunday 29 November he suggests a prayer and liturgical focus on climate justice.
Some resources that may assist can be found at:
MAKE THE "PARIS PLEDGE"
Bishop Tom suggests individuals commit to strive for a 50% carbon emission reduction by 2030 and set a goal of being carbon neutral by 2050.
See http://www.parispledge.org.