ABM Archive Website
THIS WEBSITE CONTAINS ARCHIVE MATERIALS FOR HISTORICAL REFERENCE ONLY
For up-to-date information, including our latest appeals, news, and resources, please visit our current website.
Bishop Kay Goldsworthy appointed an Officer of the Order of Australia
June 14, 2017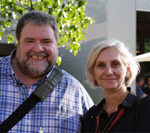 Congratulations to the Rt Rev Kay Goldsworthy, Bishop of Gippsland Diocese, who received an Order of Australia medal on 12th June. The following article was published in the Gippsland Times.
Bishop Goldsworthy, AO
13 Jun 2017
BISHOP Kay Goldsworthy has been appointed an Officer of the Order of Australia in the Queen's Birthday Honours List.
Recognised for her distinguished service to religion through the Anglican Church of Australia, as a pioneer and role model for women, to church administration, and to pastoral care and equality, Bishop Goldsworthy is the first female Anglican Bishop in Australia.
She is the first woman to lead a diocese in Victoria, and only the second in Australia, after Bishop Sarah Macneil was appointed to the Diocese of Grafton early in 2014.
Her immense list of achievements begins with her ordination as a deacon in the Diocese of Melbourne in 1986, and she became one of Australia's first female priests in 1992, serving in Perth before being elected Bishop of Gippsland in 2015.
These were the absolute highlights of her long career, she said.
"Each (ordination) has been really significant, and not something easily walked into, very hard-won," she said.
"It's the efforts of lots of people, women and men, for whom those doors opening was really significant."
Bishop Goldsworthy said the AO appointment was a surprise.
She hoped her achievements would show other women that they could be as involved in the church.
"I simply thought, what I really want to do is, I want to be in ministry, I want my life to show something of the love of God, and I want to give my life to doing that," she explained.
"It was a simple thing at the beginning, and it's been more than 30 years that I've been in ministry in that time, doors have opened and things have happened for women in the life of the church."
Above image: ABM Chair Bishop Garry Weatherill with Bishop Kay Goldsworthy at the 2016 Life in Abundance Missions Conference in Melbourne.