ABM Archive Website
THIS WEBSITE CONTAINS ARCHIVE MATERIALS FOR HISTORICAL REFERENCE ONLY
For up-to-date information, including our latest appeals, news, and resources, please visit our current website.
Bishop of Kobe, Japan, visiting St John's in Canberra
September 15, 2014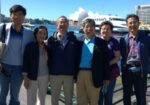 Bishop Andrew Yatuka Nakamura, the Bishop of Kobe, and his wife are in Australia, having recently attended the Annual Meeting of the Council of Churches of East Asia (CCEA) which was hosted by the Diocese of Newcastle over the weekend.
Part of their visit includes a trip to Canberra where they have been invited to a service at St John's Anglican Church in Reid on 17 September. The Rector, the Revd Paul Black, is a former ABM Board Member. ABM staff in Sydney had the pleasure of meeting Bishop Andrew last Thursday as he passed by on his way to Newcastle.
The following article about Bishop Andrew's visit to Canberra is from the parish website
www.stjohnscanberra.org.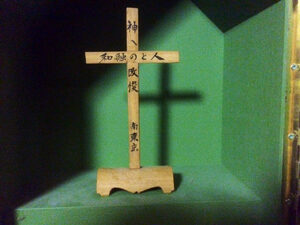 Bamboo cross draws Japanese bishop to Canberra
Bishop Andrew Yatuka Nakamura, the Bishop of Kobe, and his wife will visit Canberra on 16 and 17 September.
On Wednesday, 17 September at 10.00 a.m. Bishop Andrew, together with Bishop Stuart, will attend a service at St John's to give thanks for the relationship that now exists between the people of Japan and Australia. The service will be followed with morning tea in the Robertson Room.
Bishop Andrew will follow in the steps of Bishop Michael Yashiro. On 10 June 1950, he came to St John's and presented a small bamboo cross with the inscriptionReconciliation and Repentance at a service. You can find the cross in the side chapel.
This is what was reported in the Sydney Morning Herald on 10 June 1950:
"Bishop Michael Yashiro of Kobe, presiding Bishop of the Japanese Anglican Church dedicated a memorial bamboo cross to Sister May Hayman, a Canberra missionary, killed in New Guinea by Japanese troops during the war.
Bishop Yashiro, the first Japanese to enter Australia since the war, performed the dedication ceremony in the historic church of St John the Baptist.
Beside him sat Padre H.F. Bashford, chaplain of the Royal Military College, Duntroon, who witnessed the execution of eight Australian soldiers whose deaths are now the subject of the Manus Island trials.
Two police, from behind the cover of a clump of pine trees, screened all people entering the church.
Bishop Yashiro, in slow, halting but correct English, expressed to a congregation of 70 his 'sincere regret' for his countries participation in the Second World War.
'We have had a terrible experience in the last ten years,' he said. 'It is dangerous to be governed by politicians who are not guided by the Holy Spirit.'
'Why can I stand on this pulpit in such a miserable condition of mind?' Bishop Yashiro asked. 'It is simply because I have deep within me a wonderful power of Christian faith.'
Before he had left Japan for Australia he ordered all of the churches to observe September 18 as a day of remembrance for Sister May Hayman."
In the southeast corner of the sanctuary at St John's a stained glass window depicts Sister May Hayman who was a parishioner here and a nurse from the Canberra Hospital. She went to New Guinea as an ABM missionary in 1936 and was killed in 1942.