ABM Archive Website
THIS WEBSITE CONTAINS ARCHIVE MATERIALS FOR HISTORICAL REFERENCE ONLY
For up-to-date information, including our latest appeals, news, and resources, please visit our current website.
Brisbane Students Show Support for Children in the Philippines
February 17, 2014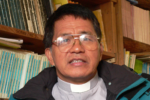 This month a letter of thanks was received from the Prime Bishop of the Episcopal Church in the Philippines (ECP). It was in response to Elementary School students at the Springfield Anglican College in Brisbane who sent handwritten letters via ABM in support of children affected by last November's Typhoon Haiyan.
Earlier on, College Chaplain the Revd Chris Boyce told us, "How wonderful! This is so heart-warming and I know the kids will be very pleased to hear how well their gifts and little notes have been received. It will do their little hearts good when they hear the news from the Philippines. Praise God!"
In his letter, Prime Bishop Edward Malecdan (pictured) said, "Do extend the ECP's greetings to all those sent their messages of hope and encouragement to the children of the Visayas who are at the same time "the least of our sisters and brothers", as well as the whole community of Springfield College. God bless."
Thank you to Springfield College and to all other supporters who have shown their care and love for our brothers and sisters in the Philippines.